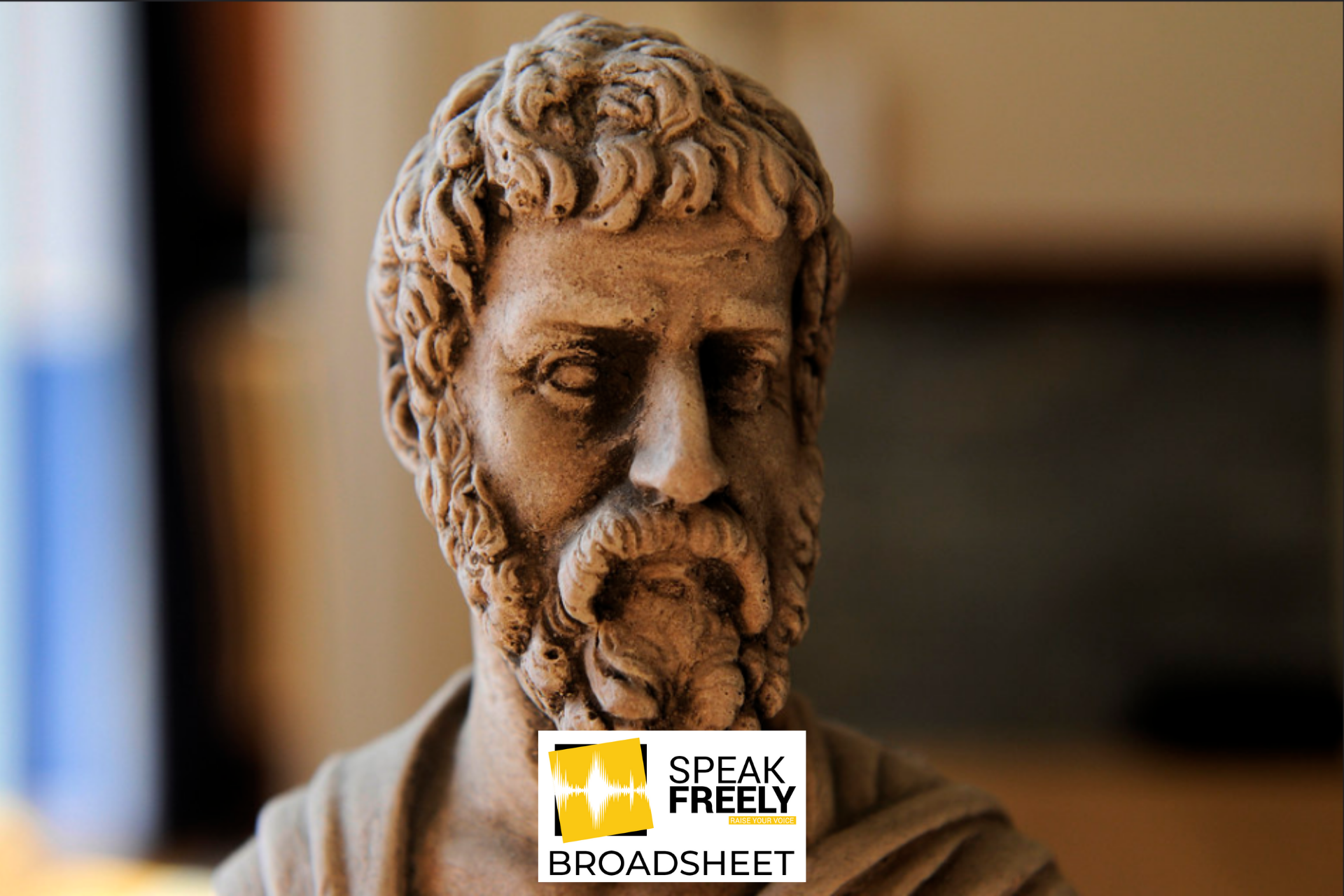 When Law and Morality contradict each other
In the play of Sophocles, Antigone the eponymous character wanted to bury her brother who betrayed the city. The king made it illegal to give him a proper burial. Antigone chose to do what she thought was right, what the gods told her to do. She broke the law and was sentenced to death.
Most of us will be Antigone for at least a moment in our lives. We will all face laws that go against our personal beliefs, but we will react differently. Today the dilemma of Sophocles is more alive than ever.
The Rule of Law
According to Socrates, laws are always just. He argued that one most always obey the state. He was sentenced to death. While he had the chance to escape, he did not. Today he is praised for it. He believed it's the laws that allowed him to be raised and educated, and to have lived such a happy life.
Today we are witnessing the rise of a big government, everyday a new law comes to life. All people and institutions are subject to and accountable to law that is enforced; this is the rule of law. It is considered to be the basis of democracy. And it is now widely accepted among lawyers that law is higher than morality, they argue that morality is subjective and law is something which is shaped and developed to benefit the public.
Without laws, the world would be chaotic and unsafe. We often refer to people who respect the laws as « good » people and the ones who don't as « bad » people.
Civil Disobedience
Laws are not universal, what is legal in some countries is illegal in others. Sometimes in order to do the right thing you have to break the law, because legal doesn't necessarily mean right. After all what makes a law more than an opinion with a gun?
Aristotle was one of the first to make a distinction between a good citizen and a good man in his dialogue with Socrates on the "Nicomachean ethics": "It is not always the same thing to be a good man and a good citizen."
Henry David Thoreau, philosopher and naturalist introduced the moral duty to disobedience in his work "Civil disobedience". He was arrested for refusing to pay his $1 poll tax. He did not want to pay it because of his opposition to slavery and the war with Mexico. He believed that people have a duty to be just and not let governments overrule their conscience. He criticized men who obeyed governmental law even when they believed it to be unjust. He argued that everyone must be free to act according to his conscience. He wants us to align our beliefs with our actions.
In the age of information, civil disobedience is also a must. Snowden broke the law, for the people. He willingly exposed himself to considerable personal risk by leaking information about the NSA programs Prism, Boundless Informant, and XKeyscore, which collect and analyze massive amounts of personal data on Americans and foreigners. He did what he thought was right.
So did Julian Assange, the founder of wikileaks who is now arrested. He gave private information on corporations to the public for free, and he was arrested. Mark Zuckerberg gives people's private information to corporations for money and he is a free man. This does tell a lot about the legal system.
"Every time we witness an injustice and do not act, we train our character to be passive in its presence and thereby eventually lose all ability to defend ourselves and those we love," said Julian Assange.
We shouldn't underestimate the fact that laws are made by humans and humans are flawed. "Do not the legislators and their appointed agents also belong to the human race? Or do they believe that they themselves are made of a finer clay than the rest of mankind?" is one of the great questions Frederic Bastiat asked.
One may think that humans make laws to protect human's life and property, but very often the laws get muddled in human narcissism and cornered perspectives. And a law can be easily gamed with a good lawyer.
"The greatest crimes in the world are not committed by people breaking the rules but by people following the rules. It's people who follow orders that drop bombs and massacre villages." said Bansky.
The laws underlying slavery are obvious examples of extremely unjust laws. Nazi Germany had an awful lot of anti-Jew laws.There is no reason to believe that just because a law passes, it is for the best or that it is right or moral.
Unjust and tyrannical laws are not just part of the past; recently French president Emmanuel Macron vowed to criminalize criticizing Zionism, more than 400 intellectuals signed an open letter to protest. It stated « …We will break this law with our words, our writing, our art and our acts of solidarity. »
We cannot talk about civil disobedience without quoting Thomas Jefferson: "If a law is unjust, a man is not only right to disobey it; he is obligated to do so. »
A law has to be respectful to be respected.
God's Law
But is it always right to break the law and follow your personal beliefs?
The New Zealand shooter broke the law and killed 50 Muslims in Christchurch because he thought he was doing it for the greater good, he thought it was needed to be done. He even wrote a manifesto to explain why he broke the law and ended the lives of many.
If we go back to the story of Antigone, she did not want to respect king's law because she wanted to do what she thought was right; respect god's law and bury her brother. But he was a traitor.
Rousseau in The social Contract affirmed that a superior intelligence should give men laws:
"To discover the rules of society that are best suited to nations, there would need to exist a superior intelligence, who could understand the passions of men without feeling any of them, who had no affinity with our nature but knew it to the full, whose happiness was independent of ours, but who would nevertheless make our happiness his concern, who would be content to wait in the fullness of time for a distant glory, and to labor in one age to enjoy the fruits in another. Gods would be needed to give men laws."
It indeed would have been easier if god wrote universal laws in the sky. Through history every civilization claimed to know god's law and it rarely ended well. Religions are controversial.
Let's start with an overview of God's law in the Middle East. Many countries like Saudi Arabia and Iran have Islamic laws. People there act according to what they think is right, they get their morals from the Koran; Allah's word. Such Theocratic countries exploit the right of non believers and minorities. Individual freedom is almost nonexistent. For instance a woman not wearing the Hijab in Iran can be lashed or jailed. God asked women to dress a certain way; this is god's law and defying it is unacceptable and illegal. Child marriage is lawful in such countries because their prophet did promote it. And he is the example they have to follow. Terrorists who have a literal translation of the Koran feel obligated to kill Kufar (Non Muslims).
The west separated religion and state for a reason. In other words, "God's law" is not what the world needs.
Where to draw the line?
It's hard to think of a world with universal laws but impossible to think of a world without laws.
Good laws should restrain bad people and good people should stop bad laws.
But if human laws are corrupted, and there's no superior being willing to guide us; how to put laws?
Libertarians figured it out: "The only actions that should be forbidden by law are those that involve the initiation of force against those who have not themselves used force."
This should be the foundation of legislation. This way we are protecting people from abuse and limiting unnecessary laws and regulations; in other words we are putting the government in the backseat.
When law and morality contradict each other, who are you? Are you Antigone, willing to face repercussions for breaking the law because it goes against your personal and religious beliefs? Or the town's people who chose to abide to the law of the king? Maybe you're Ismene, the sister of Antigone who couldn't pick a side?
---
This piece solely expresses the opinion of the author and not necessarily the organisation as a whole. Students For Liberty is committed to facilitating a broad dialogue for liberty, representing a variety of opinions. If you're a student interested in presenting your perspective on this blog, click here to submit a guest post!
Image: Flickr