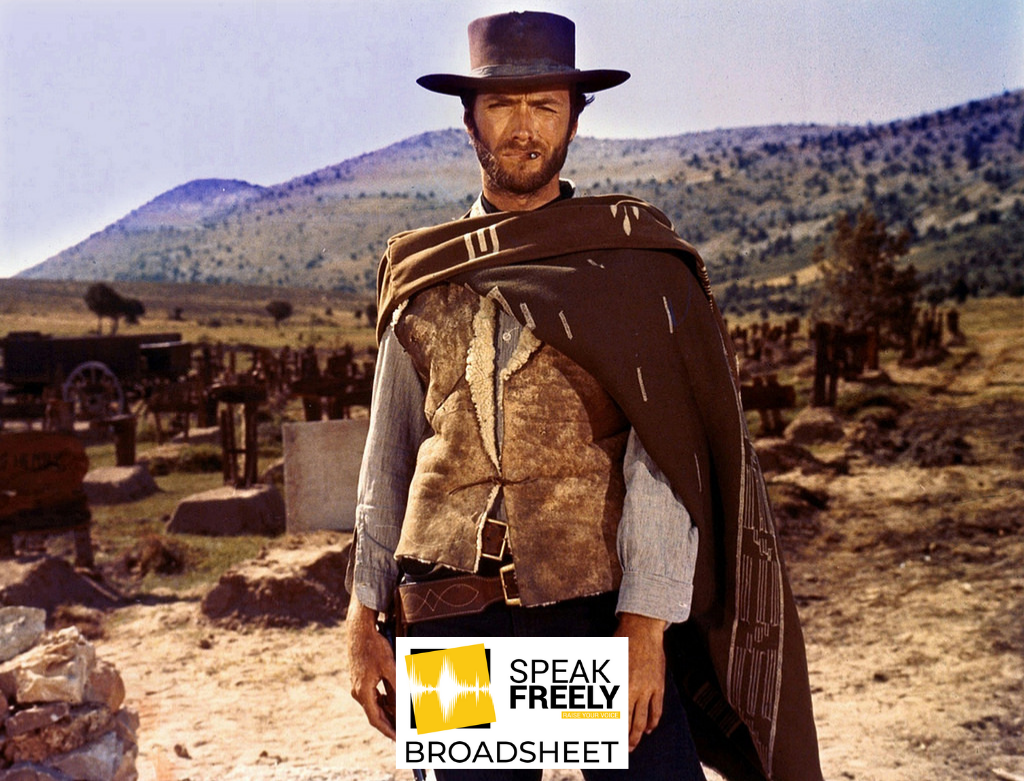 Clint Eastwood: A Libertarian Role-Model
When you think of Hollywood star Clint Eastwood, important political commentator might not be the first thing that springs to mind. Where most actors and actresses such as Helen Mirren, Christian Bale and Anne Hathaway seem to have no shortage of political grandstanding in the public sphere, many have understandably grown tired of the lecturing of professionals who expert in pretending to be people they are not.
What singles out Eastwood is that his views were not revealed in an artificial, headline-seeking and show-off way, nor exposed in a capture of some kind of ignorant, angry rant such as with Mel Gibson's. His were rather humbly and honestly presented to the public when Ellen DeGeneres asked in an interview in 2016.
However, his political views had been by no means hidden before this interview. In 1999, Preimieré magazine published an interview with the actor in which he claimed "I guess I was a social liberal and a fiscal conservative before it became fashionable".
Fashion of course, is irrelevant for libertarians who are used to being in the obscurity to many.
Seven years earlier, he had praised the works of Milton Friedman. When discussing same-sex marriage,he has been quoted as saying "From a libertarian point of view, you would say, 'Yeah? So what?" and that "People should be able to be what they want to be and do what they want — as long as they're not harming people.". Demonstrating that the Dirty Harry star understands clearly the principles of the NAP.
The characters
Strange parallels between Eastwood's often likeable yet unorthodox personas in film, and his apparent personal political views can be drawn rather nicely. Anyone who is familiar with Angel Eyes, Blondie or Inspector Harry Callaghan would be aware that the Eastwood persona is one that often takes on the role of the anti-hero. The individual with good intentions in a lawless setting, mediating self-interest with acting according to some kind of code and system of honour. Showing empathy, but simultaneously taking no nonsense from others.
Of course, this does not translate over immaculately – it is hard to imagine a read-up follower of John Stuart Mill's harm principle gunning numerous people down in every town they travel to. Despite the chaotic allure of the Wild West to some, the complete lawlessness also meant that property rights were often left unprotected.
In cult classics such as For a Few Dollars More and The Good, The Bad and the Ugly, thievery is often portrayed as a minor inconvenience and something the Main characters occasionally tactlessly partake in. Hardly libertarian as we know it.
Yet, there is a sense of familiarity with the whole thing. Yes, Blondie (by a large margin) is seen to kill more people than both villains in the movie, but Eastwood's character is mostly under threat and acting in self-defence. Yes, his character is seen to dubiously pocket large sums of cash, but these are predominantly from the state authorities (like a self-interested Robin Hood).
In an anarchic and frenzied setting, Eastwood's principled crook  stands out. The effective stark shattering of the unanimous corruption of his peers, reveals more inspiring and resoundingly, how Eastwood's characters take careful steps to ensure they do not walk all over people. Despite pursuing his riches, nominally trying to leave behind a good footprint with others. Whether this be by handing a drink to a dying general who cares for his men, or through simply allowing a soldier pained by his wounds a drag of his cigar for comfort – the conscious self-restraint in not going out of his way to make others' lives worse shows some kind of positive neutrality and basic libertarian integrity.
The libertarian parallels between the real man and the iconic roles
The basic premises of the ideology are not at all hard to grasp or understand. They may be dressed up with all kinds of social and economic logic, but the foundations remain the same – and easily understood. Eastwood, in his interview with Ellen, puts it as simply as can be… "Libertarian means socially you sort of leave everybody alone, but you believe in fiscal responsibility and government staying out of your life."
This is fitting, yet there is much more to it. Staying in the background and general permissiveness doesn't seem to stick or match with the libertarian image. The absolute resistance to coercive forces and authority is a fundamental theme to the ideology.
The snake on the Gadsden flag, a traditional image of the ideology, resonates with the viewer that the libertarian intention is not to be messed around, and this falls in line with the Dirty Harry mentality rather well. Whether this be through firm opposition to nanny-state policies, excessive regulation, policies on speech or excessive taxes – the traditional libertarian seems to be always pushing back and rebelling against some greater intimidating force.
Taking no nonsense from those who cross and wrong you and knowing where you stand are archetypes to the libertarian character, which could further explain why the Eastwood character feels so readily recognisable to the viewer. Here, again, Eastwood helps carry the scripted persona from the screen to real life. The actor's political affiliations display as much, having spoken at the Republican convention in 2012 and having previously voted for numerous Republican presidential candidates. Eastwood is firmly aware of which side in the predominantly two-party system in the US, despite its deviations, better aligns with his views and is unapologetic about it.
Despite this voting record, the actor has been intentionally reluctant to ever call himself a 'conservative', even refusing ever to do so. Vocally taking pro-choice stances as well as favouring gay rights and marriage equality did not cloud the picture of which side was generally more sympathetic to the liberties and economic system he espoused; the Right.
This is something many libertarians of today seem reluctant to face. They wish to distance themselves from and demonstrate reluctance to embrace their ideological cousins with authoritarian deviations and tendencies as often complete political strangers. The libertarian-who-knows-where-he-stands would not, but simultaneously have no issue decrying their policies he finds detestable.
In both movies and real life, the Eastwood persona has been one that has reminded most of the world of the common libertarian traits we all can agree with, may wish to uphold and strive for. In Eastwood, there is something rare in an actor, who often obsess over public exposure, carefully reading and pandering to current social trends in order to build an identity. Eastwood's views came naturally and through being himself, never compromising his ideals and principles.
In an industry full of those with shallow and narcissistic inclinations, he remains a breath of fresh air and acts as the likeable surprisingly fruitful example of a libertarian to follow,  both on and off the screen.
---
This piece solely expresses the opinion of the author and not necessarily the organisation as a whole. Students For Liberty is committed to facilitating a broad dialogue for liberty, representing a variety of opinions. If you're a student interested in presenting your perspective on this blog, click here to submit a guest post!
Image: Flickr