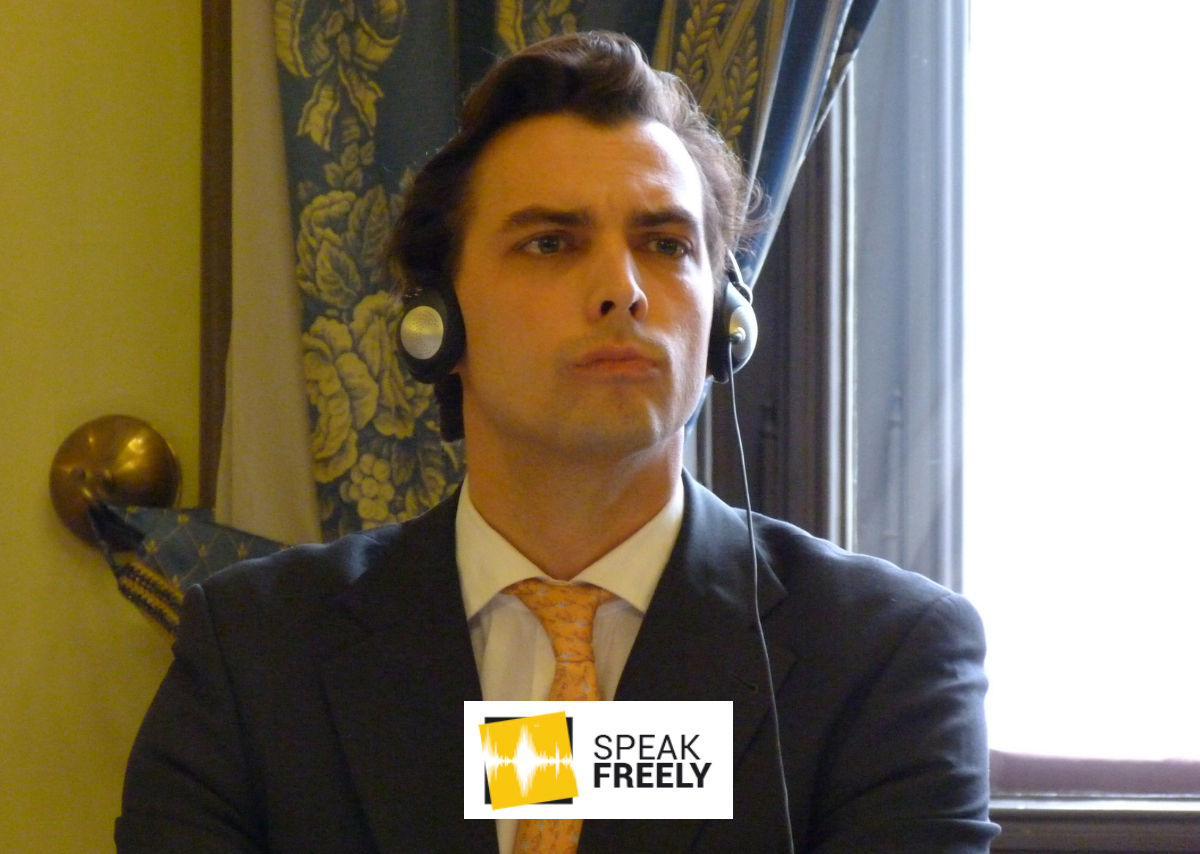 Thierry Baudet: A New Direction for Populism?
Thierry Baudet and his new-on-the-block FvD (Forum for Democracy) party have shocked many as they stormed to victory last Wednesday in the Netherlands' regional elections. What terrifies the continental Europhile establishment about Baudet that it did not about his predecessors is that he possesses a deadly brace, charisma and intellect.
The University of Amsterdam graduate and University of Leiden PhD doctorate does not give short, impassioned, thoughtless and easily dissectible answers. His arguments are thought-out, logical and all-to-often rooted in academic historical or European philosophical literature and texts. His calls for returns to the nation state, greater democratic exercise, inclusion of the people, and cultural hegemony are not shallow ploys to amass support but policies based on beliefs authentically held.
No imbecile
What makes Baudet's populist politics so threatening to the centrist internationalist order is that he cannot be discounted as heretical, extremist nor uneducated. His ideas are legitimate and convincingly explained. What he states is largely supported by the pragmatic evidence of today's world. To many, the reading is that multiculturalism is not succeeding.
Birthed only in 2016, FvD has now happily leapfrogged its way past both the previous Dutch right-wing frontrunner Geert Wilders' PVV (Party for Freedom) and the incumbent Prime Minister Mark Rutte's VVD (People's Party) into first place, impressively attaining 13 seats in the Dutch senate. The regional elections are indication for what is to come as Baudet's meteoric rise in the polls continues. One theme has remained consistent with FvD in Dutch politics; the more exposure they have attained, the more support they have amassed.
Where, historically, in the modern discourse, populists and their demands could be easily discounted as angry, hateful, scapegoating and ignorant politics, the FvD is where these traditional takedowns and discrediting tactics are not successful. Populism has previously been cynically derided as reactionary but in this case, to the many voters who are peeling support away from mainstream centre parties, in this case it is seemingly something far more – a return to sanity.
Bluntly, what makes him different and effectively unstoppable is that unlike the current populist alternatives in the West such as Donald Trump, Luigi Di Maio or Jeremy Corbyn his aurora screams of competency to the electorate. This was not the case with his political predecessor Geert Wilders who famously constructed a particularly lacking and unconvincing two-page manifesto (which included wishful, unconstructive and antagonising policies such as the closure of all mosques) for an election he was poised to win. Where it may have been the case with his formers, the Dutch public simply have not been convinced he lacks any of the acumen, wit or resolve required for office.
Baudet on Europe
His Euroscepticism is another reason that has allowed him to quickly amass support in the current public sphere as he has matched the democratic demand. Where his personality and intellect may suggest competency, Europe's continued relative decline means the EU does not. The tide is turning, the winds are changing, and the mood is most definitely shifting. The empirical evidence of stagnated growth rates and increasingly polarised, segregated societies simply does not agree with the premise of European economic or political aptitude.
He has no love for the big-state institution, previously decrying it at a debate in Oxford Union. "The EU was founded to wage war and reduce free trade," he has previously proclaimed. "Since the thought behind it was that the Soviet Union had to be countered and that this could only be done with a command economy behind the facade of a fake national democracy. The EU has nothing to do with peace and prosperity."
While many may dismiss what Baudet stands for as identitarian and tribal, the fact remains he is less extreme than much of the alternatives that exist in Europe today. He does not advocate near-socialist policies like Marine Le Pen nor has open far-right tendencies such as the AfD in Germany. He is largely economically liberal, proposing a large tax free-bracket and does not involve himself with thuggish street riots. He is merely ideologically firmer and does make for a better opponent in the political system than the latter.
A new (or old) cultural approach
However, the identitarian dismissal is a narrow oversimplification of what this emerging kind of politics really espouses. In a bygone era, the political mainstream was in agreement with the FvD's ideological leanings. He is a civic-nationalist (something far less divisive and concerning than ethno-nationalism), based on the domestic universality of the liberal enlightenment principles among the peoples Europe and the Netherlands. He opposes mass-migration through scepticism towards an influx of peoples who were raised elsewhere, where different doctrines, worldviews and philosophies in opposition are often predominant.
Baudet represents an alternative answer to the question that faces liberalism in methods of self-consolidation. While many liberals question the ethics of exercising state power in order to prevent individuals from moving to, working and living in a nation, the fact remains if the people holding up such a system do not support its ideological foundations and pillars, it cannot stand.
In fairness to Baudet, the previously politically dominant laissez-faire and multiculturalist approach has not proven overtly successful in securing the liberal order in Western Europe. Whether it be through spurring individual acts of social conflict (such as in the religiously motivated Utrecht attack only days before the elections) or in the requirement of excessive censorial state authority in order to silence the dissenters – evident in the arrest of a man who threw bacon at a mosque (later killed in prison) and the nonsensical prosecution of comedian Markus Meechan for teaching his dog to Nazi salute – both approaches result in paradoxically requiring some kind of invasive state coercion to ensure the protection of citizens, as well as the continuation of the liberal system.
To many, control of immigration and cultural defence is the more logical and the freer choice. One that does not compromise the freedoms of existing citizens – especially if, like Baudet, you believe European culture is rooted in Enlightenment thinking. Yet for this very reason, many liberals are already poising to denounce him. The desire to always see individuals as atomised single entities often clouds the thinking of contemporary-liberals, who are uncomfortable with and often entirely neglect to observe social trends. This is not objective and unscientific, and Baudet's prescription is merely another method.
Make no mistake mind; the Dutch right-winger's reasoning is not made through any thinly-veiled prejudice. "Xenophobia is totally alien to us," he has declared, when describing Europe at a party conference. "Not any other culture on Earth has ever been so open and pluralistic as ours has always been."
Populism continues to rise
Of course, the underlying causes for his popularity can be easily traced. As the postmodernist progressive movement takes a wrathful, authoritarian turn, the feeling amongst the public is that it has overplayed its card.
Political correctness is being widely (but privately) scorned and seen as an excessive accusative social movement that silences legitimate opinion through witch-hunting mechanisms. People have not embraced the new social order, they have merely ceased speaking out against it. Evidence for this lies in figures that underline only 7% of Brits call themselves feminists meanwhile 71% of Americans say political correctness has silenced discussions society needs to have and 58% state they hold political views they're afraid to share. Baudet's resolute and collected ideological defence of traditionalism is the antidote to such poison in the political climate of the West.
A narrow victory in the incredibly plural democracy of the Netherlands may seem obscure, but watch out for this one, because Baudet represents the technique expressed perfectly to fit the gap in market on the right – and sweep to victory. This could be the direction that right-populism takes in the coming years.
"We are going to start a renaissance in which our self-confidence is restored, in which we can live safely in a trusted environment, in which the democratic state is repaired and economic and cultural dynamism can return," he stated in his victory speech.
A more resounding centre right that mediates classical liberalism and conservatism may make the debate more competitive and fruitful, avoiding potentially more extreme manifestations. What is for certain however, you can surely expect to see more of Thierry Baudet in the near future.
---
This piece solely expresses the opinion of the author and not necessarily the organisation as a whole. Students For Liberty is committed to facilitating a broad dialogue for liberty, representing a variety of opinions. If you're a student interested in presenting your perspective on this blog, click here to submit a guest post!
Image: Wiki Commons