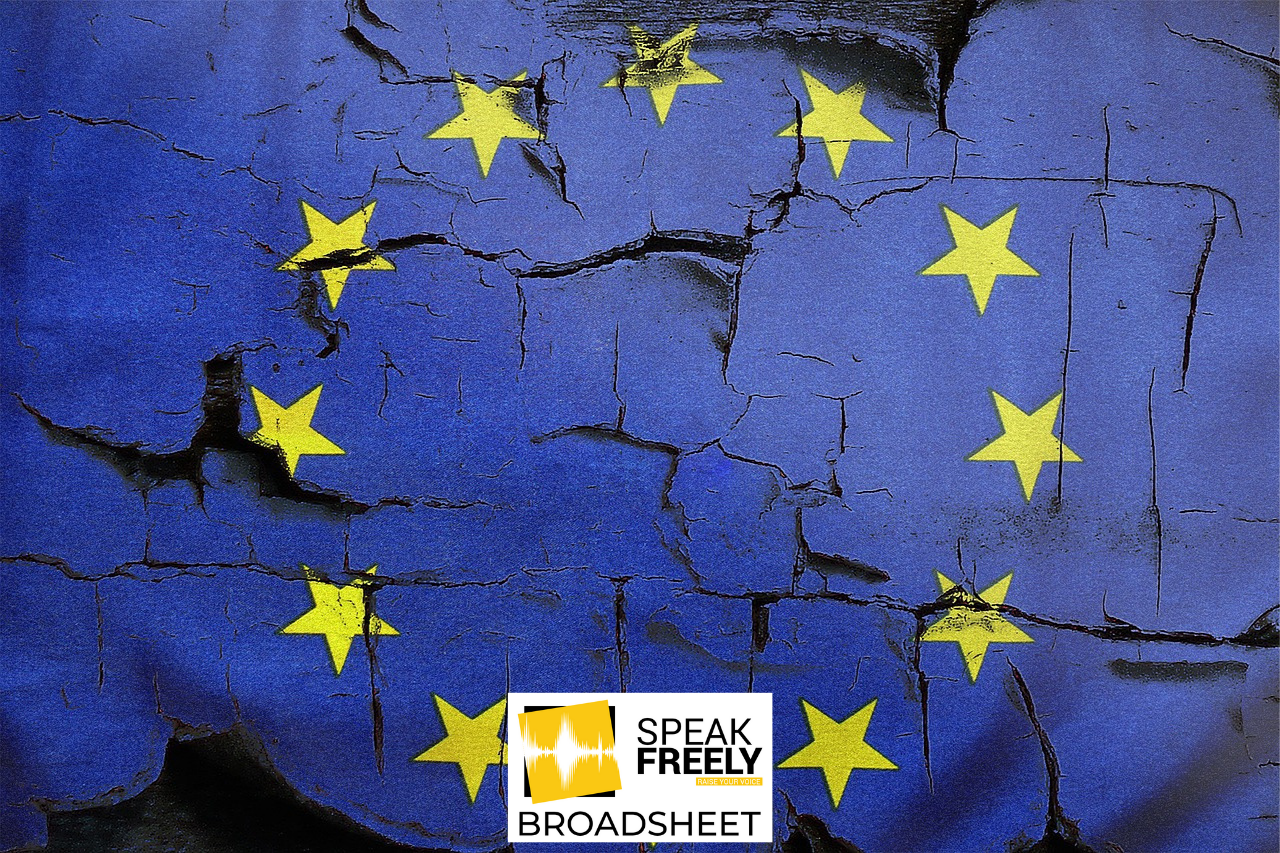 Should Libertarians support the EU?
Many hold seemingly schematic emotional attachments toward the European Union (EU), apparently unconcerned by its ever-more looming dominance as a self-serving and highly questionable organisation. From the European Court of Justice (ECJ) to the dubiously-run European Parliament to the powerful and unelected European Commission, I hope to unveil the political reality of the EU to those hesitant to criticise or address some of the major injustices that permeate it to its core and explain why, for the member states of the EU, it is the greatest political threat to liberty in our time.
This essay will attempt to make the case why, if Britain is not supported in its struggles against the suffocating weight of the EU, indifference and silence from libertarians will quietly allow dramatic and terrible consequences for the future of economic, political and by extension civil liberties across the continent. For all classical liberals, libertarians and those that care about freedom – ideological inconsistency cannot be afforded at this time. Neither the flag, nor anthem or professional manner of conduct should be enough to attain positive regard from any open and free thinker, especially when you are its subject. From curbs to free speech to massively harmful protectionist trade policy and the facilitation of a program of harmonisation among vastly different nations, accelerating the speed at which a United States of Europe is formed – the institution has become self-serving in its aims, rewarding loyalty with generous funding and rotten to its core. I will attempt here to explain the many reasons why.
I will, step by step, debunk all the major defensive arguments and hope to demonstrate how the empirical evidence either makes these cases weak or, in some cases, often completely redundant. It will be concluded why libertarians, whilst touching upon the thoughts of Mill and Smith, must not take any position other than opposition to the Union. It will pose a far greater, more real and direct threat to freedom in Europe than any other entity during this century. Those wielding power from the 'EPP' group in the parliament to the Commission are overtly hostile to any such notions and libertarians should not assume otherwise, this is the reality and it must continue to be exposed. Let's look at the evidence and explore the arguments they give in return.
Liberal Democracy? Really?
It is true that the EU's criteria for accession has many noble requirements. Political academics will indeed accurately claim that a major incentive for democratisation and modernisation of the post-communist nations was to join the Union. However, this plays into my greater argument that as the EU has continued and become more centralised over time it has become more corrupt in practice (which will be touched upon later with the appeasement of certain lobby groups and not representing all interests evenly). Despite this, with the quick instillation of quality democratic institutions and exercise of highly-functioning multi-party elections in Hungary alongside dramatic market reforms in Poland during the 90s, the EU was, initially, a force for good.
However, many will also tell you that a reason for the European Union's reach out to the countries of Eastern Europe was to aggressively expand influence to the East and compromise that of Russia's. In fact, as pointed out by Richard Sakwa, professor of Russian and European politics; it is the European Union's direct policy and reluctance to allow Russian cooperation in the post-communist period that has led to such a suspicious polarised political rift across the two powers in Europe today.  This is a much recognised and weighted analysis among those who have studied the geopolitics in Europe at the period.
So the EU may have had its reasons but it promoted liberal democratic reforms on the countries it encompassed?  Surely then, policy making in the European Union is conducted through accountable democratic processes?
Not quite.
For these new Eastern European members, with all of the theoretical boxes ticked, it must be asked; does the mere presence of institutions mean they wield true power? In the European Union of today, the answer in reality is no. As was the case in 2017, Slovakia and Hungary soon found out that their democratic self-determination could and would be curbed by the greater entity of the European Court of Justice (ECJ) in Luxembourg. The ECJ overruled motions passed in the Slovak and Hungarian parliaments, rejecting imposed quotas on migrants, to much unpopularity and dissent from the people and politicians of the respective countries.
This is not the first nor last time ECJ ruling has overturned significant decisions made at the national level. Britain, for example, voted against EU legislative proposal on 70 occasions and was defeated 70 times.
Isn't the mere membership of the Union giving consent to its aims?
Well, it depends what you mean by 'consent'. If by consent you mean the leaders of the countries, who, when in power had the opportunity to leave the Union and didn't – then probably. These elites, who make up a number so small you could likely fit them together into the size of a small classroom, seem a rather minute group to attempt to speak entirely on behalf of over 500 million people. If you now mean consent as popular permission by the people it rules over, who on nearly every occasion it was asked, demonstrated great scepticism and question to the organisation, then no.
Moreover and importantly, across Europe, it is not just on specific legislation that the European Union assumes supremacy for itself, but also on major decisions often completely refuting referendums. In 1992, when 51.7% of Denmark's electorate voted against the Maastricht treaty, it was made to vote again – leading to the biggest peacetime riots in Europe at the time with 11 civilians shot. When 53.9% of Ireland voted against the Nice treaty, it was the same story. When France and the Netherlands put votes to their people on the EU constitution and attained results of 54.9% and 61.5% votes against, it was ignored. This story becomes repetitive; Ireland voted against the Lisbon treaty and was made to vote again. By this point it goes without saying whether the decision made by the Greeks to reject enforced austerity programs was listened to.
So nations can't really do what they want against the visions and intentions of the European Union? Why is that bad?
Whatever your belief on borders, the right of citizens and peoples to democratic self-determination in their nation is vital to maintaining a harmonious and free society. The Germans, for example, should be allowed to vote for liberal migration policy, however simultaneously the more conservative and culturally concerned people of Eastern Europe must be allowed to decide on their own policy. It is the actions without consent that foster, understandably, anti-democratic and reactionary sentiment.
Actions that concern the governance of a people, enacted without their approval is directly in conflict with the John Stuart-Mill's harm principle, which famously stated that actions conducted outside the self-regarding manner should only take place with their 'free, voluntary and undeceived consent'.
Increasingly, the European Union's version of democracy has been that of overturning decisions made by democratically elected governments. This is not political freedom.
The EU has always carried out action without the direct consent of the majority or seeking permission at all it from its citizens – it is blindly-faithful to believe that the  commission is anything other than totally unconcerned with it.
Any law that is passed in the European Union cannot normally be overturned by national governments. If the democratically elected politicians who the people chose are seen to wield no real power, this spells bad things for enfranchisement of European citizens.
Action without consent is irritating, but nonetheless sometimes necessary. After all, you cannot perform referendums on every ministerial decision of governance. Action against consent is something different and far more relining and angering entirely. The Gilets Jaunes protests were undeniably anti-establishment and Eurosceptic, perhaps it is the first glimpse of the surfacing undercurrent and fury that is to come.
What about the European Parliament?
In practise, the parliament does as it's told and often doesn't act as anything more than a shouting chamber for meaningless debate between outspoken federalist fanatics such as ALDE's Guy Verhofstadt and marginalised sceptic groups' leaders such as EFDD's Nigel Farage. The parliament has not once rejected the EU budget, in spite of vocal criticism every year from the EU's very own accounting body alongside that on a number of occasions, member states such as the Netherlands, Britain and Sweden have voted against it.
As for MEPs themselves, their powerless abilities to do nothing other than vote like cattle on already-decided policies that have been negotiated to pass through anyway is where the European Union becomes more cynical and illusory. They cannot initiate legislation, propose or repeal. The big parties in the EU parliament being the EPP (European People's Party), ALDE (Alliance of Liberals and Democrats for Europe) and S&D (Progressive Alliance of Socialists and Democrats) are all in bed with each other and at their head, largely agree on policy and initiative anyway. The parties who are members are issued rewards and are coerced into following the party line. Rigorous debate, as should be expected in any healthy democratic parliament, is suppressed and stifled – which explains how 'far-right' Hungarian Fidesz votes in line with Merkel's CDU party despite enormous opposition in ideology.
Finally, the pantomime and performance is lavishly funded by the European taxpayer. A report from the Economist in 2014 described MEP's expenses as a 'scandal' as they could spend without accounting a receipt or reason. 'Expenses' often meant employing spouse or children and these could be up to £225,000 on top of base salary. There are 751 MEPs and they cost £225 million every year.
All of this capital being decadently wasted on useless European 'politicians' is money that could have been meanwhile supporting European commerce and consumers. The money that was plucked from efficient European workers and businesses and was collected and handed to our useless paper-filing friends in their fancy buildings in France and the 'Benelux' countries. Is this fair to promote a relentless agenda of federalisation that has had little authorisation from the people?
Reform?
Unfortunately, with polling clearly against the collapse of people's beloved national autonomy and level of governance being contrary to the European Union's intentions, no critically required self reflection is taking place.
As the EU evolves, 'reform' is still a distant noise heard on the horizon; formerly only being put forward by the national governments of Britain and Poland – a drop in the bucket of 28 nations. Despite this, national governments and even parties (on their own) in the European parliament have dwindling and futile significance – paling to that of appointed commissioners and distant  members of the Council of the European Union (often referred to as the council of ministers) who often decide on and pass legislation respectively without the say of any individual who holds direct democratic consent. I'm broadly sympathetic to my reformist Europhile friends, but I fail to share their optimism for what is possible. I ask; If democratic reform was possible then where are the significant calls for it from within the European institutions? Do you expect the chambers such as the commission to willingly put themselves out of work, after formerly earning over 250,000 euros a year and used to numerous royalties on top of this?
These bureaucrats, who opportunistically hold the institutional powers to obstruct reform are not going to keel over and abandon their comfortable livelihoods any time soon.
Do not underestimate the number of them. 10,000 EU officials live on wages higher than that of the British Prime Minister. Not only is this a hugely over generous waste of funds, burdening the European taxpayer further, it is also nearly impossible to justify. These near useless civil servants and pencil-pushers do not only not contribute to the prosperity of the European citizen in any real meaningful way, they directly hinder it.
So, the ones in power aren't elected. The ones who are elected don't have power and public opinion does not influence policy. Remind me, again, how the European Union is 'democratic'.
Free Markets were never the European Union's aim
Again, perhaps on paper, it is understandably highly-questionable to some that the organisation that oversees the largest tariff-free trading bloc in the world is being criticised for not particularly favouring free trade.
It must first be understood why the European Economic Area (EEA) exists and the underlying reasons for its foundation. Unfortunately, for us libertarians, it was not out of any particular admiration for the works of Adam Smith.
From the formation of the coal and steel community all the way to the common market, the intentions were always to put an economic union in place in order to build the foundations of a United States of Europe as a singular entity and country. Not through love and belief in the invisible hand or efficiency of the private sector.
Removal of Tariffs are good, but there are plenty of other qualifiers that make a market free.
The Common Agricultural Policy (CAP)  
This is evident in the European Union of today with the hotly contested CAP. Shanker Singham, the IEA's Director of international trade talks of how illiberal subsiding of uncompetitive European farmers alongside side high tariffs on African produce and regulatory barriers placed under the precautionary principle harms the development of African nations.
Furthermore, a report from Deutsche Welle showed that up to 40% of German corn produce was exported and over 20% of that to Africa. Meanwhile domestic producers in countries such as Senegal this means farmers cannot compete with the prices of German imports.
Whilst the protectionism in place here harms Africa by preventing their entrance to market of 500 million consumers, it also can be argued to be detrimental to farmers themselves – alleviating them from the pressure to innovate also causing them to fall further and further behind.
Reports from the Treasury and Policy Exchange conclude that the CAP was detrimental to both taxpayers, consumers and low income households. In line with this it has been found the CAP increases the price of food by an average of 17%. It is in the human condition to consume, we all do mostly 2-3 times a day, without fail – making it a massive industry. If Europeans are 17% more out of pocket every time they eat, it becomes clear how this harms the prosperity of the EU citizen. As costs of living increase; standards of living fall, most crucially for those at the bottom of society.
Lobby Groups
No market can be free with the protection (and public subsidising) of elevated special interests. Lobbying in the European Union is a whopping £1bn industry and has been found to influence around 75% of policy. The tobacco industry has been discovered to have made regular meetings with Spanish MEPs – evident in the actions of Mesa del Tabaco who managed to block numerous legislations proposed to the parliament.
European steel firms finding themselves uncompetitive alongside Chinese imports successfully managed to lobby for absurd tariffs on foreign steel. Eurofer has had over 87 meetings with the European commission and certain leaders at the firms hailed the 73.7% tariffs yet commented that they may not be 'high enough'. The commission's decisions may benefit in the first instance EU steel producers, but for steel consumers this harms their industry and competitiveness greatly. As with farmers, there becomes no great necessity to innovate and compete at the same level, making the firms less and less efficient.
The Tariffs placed on China and the ease at which they were passed without second thought prove that EU's aims were not to facilitate free trade and never were as much. This explains why perhaps the largest Western market in the world still lacks any terms of free trade with the Union and why African producers continue to suffer due to regulatory boundaries and unfair import duties. This is neither beneficial for Africa nor Europe and whether it is realised by the commission or not, it stands as open evidence to where their ideologies lie.
Massive public spending
If libertarians are to take the assumptions of laissez faire economic philosophies, that public initiatives that succeed the necessities (roads, fire and police stations, perhaps hospitals etc) are never as efficient nor net beneficial as had the capital not been taken from individuals and corporations in the first place; then what can the numerous European Commission departments of 'Communication', of 'Communication Network, Content and Technology' (different thing), of 'Competition' (which is not included in the department of 'Trade'), of 'Financial Stability, Financial Services and Capital Markets Union' (unrelated), of 'Internal Market, Industry, Entrepreneurship and SMEs' (also entirely different), the 'Innovation and Networks Executive Agency' and the service departments of 'Infrastructure and Logistics in Brussels' and 'Infrastructure and Logistics in Luxembourg' (entirely different bodies), to name only a miniscule amount, possibly offer that is resolutely necessary.
It has already been touched upon with the excessive MEPs and civil servants' salaries that are all at the extra expense of the European private sector, yet the lavish funding doesn't stop there. Simultaneously and for no apparent conceivable reason other than to purchase loyalty the European Union saw fit to subsidise decadent pan-European holidays for teenagers. Seemingly forgetting the EU is still undertaking the momentous task of keeping the Euro alive with the Greek bailout. This may be an anecdotal example yet this piece would continue for pages and pages if I were to list all of the European public spending initiatives. I have only glanced over the water on what exists, this was merely to show that the European Union places greater importance on sponsoring likely middle class teenage summer holidays than competently dealing with immediate crises at hand.
The buildings that house the government departments and offices that are making these decisions are also far from modest. The Neomodernist architecture on the constructions that litter Strasbourg, Brussels and Luxembourg is undeniably impressive. The ECJ building, however artistic, cost £500 million. It is decadently built, lavishly furnished and an impressive piece of postmodernism in art and architecture. This was, it must be stated again, at the expense of the European taxpayer, an vast undeniable majority of whom will never enjoy its presence or luxury and are definitely not net benefactors from its existence.
The Taxpayers' Alliance in the UK uncovered ludicrous examples of spending being 'squandered' on numerous wasteful projects which can be found here. These include; €215,972 (£152,293) handed to 'Fit for Life', a programme which includes weekly trapeze, acrobatics, and juggling lessons in Tanzania. If it were possible to attain awards in such ventures the EU would have a masterclass in useless and incompetent public spending.
Summary
To round it all off, the rights of citizens and peoples to determine their futures themselves by most ways of thinking supports the logical conclusion of democracy and the self determination of states. This is something, that in the EU's relentless pursuit and dream of federalisation has become hostile to. The antidote for disenfranchisement is seemingly obvious; bring the decisions regarding the future (of an ever more educated population) back to the hands of the people it presides over.
While Paris burns thanks to the Gilets Jaunes, Italy's substantial debt is on the verge of causing crisis and Germany enters an industrial slump, we must ask ourselves can the curbs to European prosperity from the EU's many faults be afforded? Why accept the decadence, overspending, subsidising, protectionism, populism-inciting elitism and idealism when Europe is now the slowest growing continent on the planet.
Unless you are a mercantilist, who assumes the amount of wealth in the world is limited. European decline needn't be accepted. When you observe unemployment in Spain, Italy and Greece, civil unrest in France and protectionist nationalism in the East; ask yourself is it worth the continuation that spurs these often problematic setbacks. Free trade agreements can be struck up among nations without federalisation, pragmatic careerism and idealism evident in EFTA and Canada's terms of European trade. Singapore and Switzerland show that it can be done on your own, however small.
The brakes are no longer working and the train is headed straight for the cliffs. Is it not time to step off the hurtling project of excessive government before it pulls the formerly industrially mighty from the rails and into the chasm of degrowth and recession in a postmodernist metal coffin? For  libertarians, I think it should be – it is too far gone.
---
This piece solely expresses the opinion of the author and not necessarily the organisation as a whole. Students For Liberty is committed to facilitating a broad dialogue for liberty, representing a variety of opinions. If you're a student interested in presenting your perspective on this blog, click here to submit a guest post!
Image: Pixabay