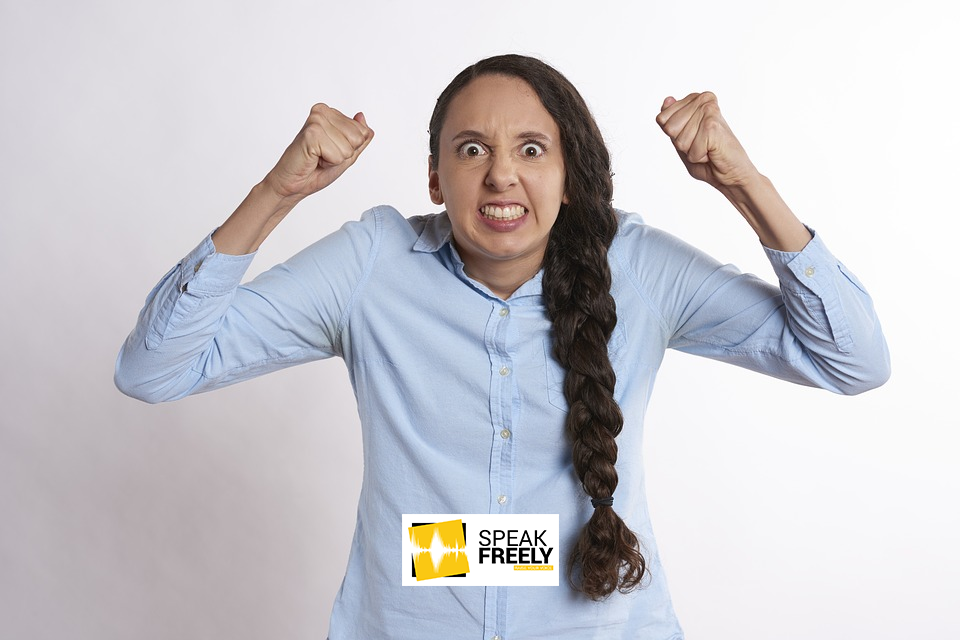 Outrage should be driven from political discourse
Screaming. Hyperventilating. Crying. Words and actions dictated by emotion in the face of disagreement. When faced with such a reaction any rational and level-headed person would take the affected person aside and ask them to calm down.
At the very least, you would take their enraged words and dramatic gestures with a pinch of salt until they regain control over their emotional core.
Children are particularly susceptible to this kind of reaction. The stomping of feet, the tears, the defiant words. The over-dramatisation of what is ultimately a minor incident of little significance. In the end,  apologies and cooperation with a runny nose.
Such a reaction is a rite of passage for any child, as they learn that crucial lesson: you can't always get what you want. So why is this phenomenon so prevalent among adults in modern politics?
A Twitter-Fueled Feeding Frenzy
Undoubtedly, this is a bolstered by the nature and prevalence of social media. The online realm constantly and instantly receives and disseminates information and news. Make no mistake, there is an abundance of those who are desperate to voice their opinion every time.
Yet the problem is that humans do not behave rationally when agitated. When we are angry, we want blood. When we fear for our safety the natural psychological response causes us to aim ourselves toward dramatic measures to ensure immediate security.
When we engage with news that pleases us, conversely, we are led by enthusiasm, quickly sharing this victory in celebration that we are right, or successfully changing the world — we do this in a flash, driven by excitement. Unfortunately we do so without checking or critically engaging with the content first. That comes after.
I came to witness this first-hand as President of a libertarian and broadly classical liberal society at a British University. Youtuber and speaker Carl Benjamin (Sargon of Akkad) surprised everyone by revealing how genuinely disarming, inoffensive, and reasonable he actually was. Even among members of the libertarian and conservative group that was hosting him, concern had been voiced influenced by hysteria and protests to his visit on campus.
Everyone had been convinced by the level of fury from opposition, that some legitimacy must exist  to warrant the efforts to no-platform him. There was none. He turned out to be just your average identity politics sceptic. Once given a chance to speak for himself, it became clear that he is also very misrepresented by some of the more incriminating tweets circulating that tarnish his name, which he explained had been doctored by his alt-right enemies.
The diverse crowd of 150 male and female students laughed, and in a light-hearted manner found common ground with him — much more than the baseless accusations of 'misogynist' and 'white supremacist' from the intersectional Feminist society and Labour group had suggested.
A Worldwide (Web) Problem
One of the more notable cases where this mob-driven outrage has caused real damage is the sacking of James Damore from his position at Google. From the other end of the spectrum too, we can point to the witch-hunt of Emily Dawes from her position of President at Southampton University's student union.
Damore ironically wrote a memo criticising Google's policies as facilitating an 'echo-chamber'. His criticisms were not by any necessity right wing. They were merely sceptical to the firm and unquestioned authority of postmodernism and intersectional beliefs that preside over the company. However, after the ensuing 'twitter storm' Google lost an insightful and intelligent employee.
Dawes, however, can be argued to have greater grounds to losing her position. Her statement that she would paint over a mural of white men alongside her other tweets underlined a clear dislike for that particular group. This is fundamentally prejudice, and potentially misogynist and racist. Still, the resulting reaction of anger from the right showed that even they are not immune to bloodthirsty childish tantrums.
Earlier this year, Dr Stephen Pax Leonard was stripped of his fellowship by Durham University after the discovery of some hyperbolic statements he had made about Sadiq Khan's intentions with London, alongwith pointing out that much of the owners of Sweden's media were Jewish. Anyone can take issue with what Dr Leonard said. However, removing his title and discrediting his work is ultimately irrational and exemplifies a course of action that can be considered self-harm.
A contestable perspective or opinion does not retroactively delegitimise any peer-reviewed academic work he produced in the past. If these trends continue they will genuinely harm our society, obstruct our progress, and cast us back to a less civilised age. Have we forgotten the punishment of Galileo or the death of Socrates?
The Truth Lies Somewhere Between The Outrage
More recently, a viral video of a school ground assault on a Syrian refugee boy shocked the nation and the world. Surely the assault was a microcosm and representation of the ugly intolerance in the West. £100,000 was raised for the boy's family by sympathetic Europeans — desperate to demonstrate their compassion. The boy was treated harshly in the video, and due process deserves to carried out with the aggressor punished.
However, context is always important and right wing figure Tommy Robinson recently contested the innocence of the boy, publishing screenshots from a mother who claims her daughter had been beaten and bitten with the Syrian boy's involvement. I would not profess to know the truth of the situation — and I hope it comes to light. For the outraged responders, however, the truth does not matter.
Take a step back from the horror. What was displayed in the video is not atypical of what takes place on many secondary school playgrounds. What makes this incident more shocking than other children who are preyed upon and savagely beaten? Was there a disagreement between the two individuals that sparked the anger? Perhaps. Perhaps not. For the millions who shared the video online, the context never mattered. What did? That it legitimised their world view — that thuggish racism is an existent problem in the UK. That is their truth.
Emotional responses should not drive politics. We all need to listen more. Less screaming, more critical thinking. Follow this prescription with regular dosage and we can avoid becoming  no better than the witch hunts of 16th centuries — or the 21st century mobs that pursued Asia Bibi.
---
This piece solely expresses the opinion of the author and not necessarily the organisation as a whole. Students For Liberty is committed to facilitating a broad dialogue for liberty, representing a variety of opinions. If you're a student interested in presenting your perspective on this blog, click here to submit a guest post!
Image: Pixabay