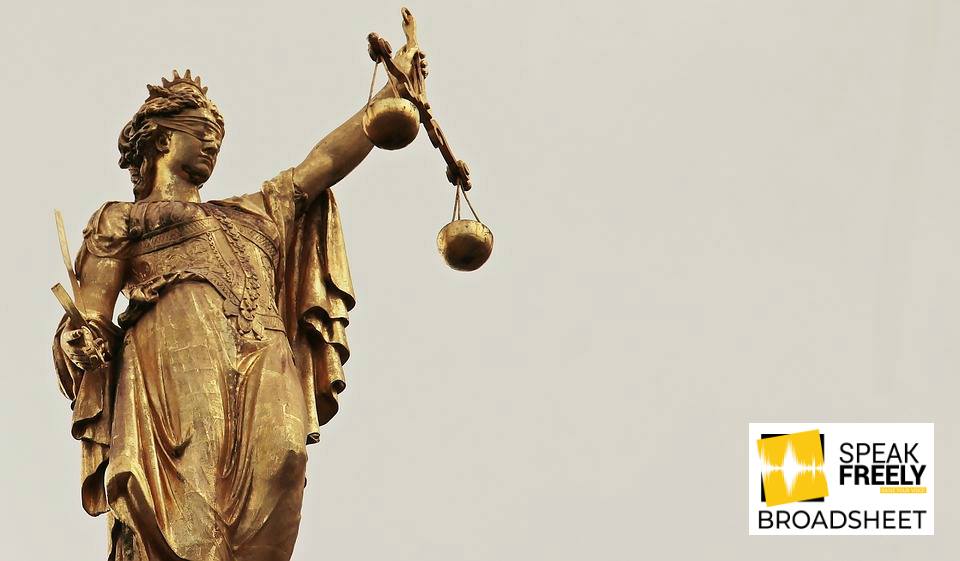 Truth is Blind: Hannah Arendt's division of truth and politics
The expression '"Love is Blind" was coined by Chaucer in his 1405 "Merchant's Tale", and was yet further immortalised, by Shakespeare's usage of the phrase in Act II, Scene I of his "Two Gentlemen of Verona". Proverbs such as this prove so powerful because they contain an element of truth that resonates with the people that adopt it into their vocabulary. Yet it is "truths" in fact, that are perhaps the "blindest" force of all in human affairs. Whereas, the human will to love, fight, or whatever else, always has the opportunity to wax and wane; "truth" simply is, or it is not. Like the wind and the rain, it is beyond our control, but of the utmost importance to our survival.
In her seminal 1961 essay "Truth & Politics", Hannah Arendt distinguishes 'factual' from 'rational' truth, arguing that the former is susceptible to distortion in politics. Born to secular Prussian-Jewish parents in Hanover in 1906, Arendt suffered the loss of her father aged seven. A fraught relationship with her mother persisted into adulthood. After completing her studies in philosophy at Marburg, and receiving her PhD at Heidelberg in 1929, she began her journey from German tyranny toward America, via France and Portugal, briefly working for the Paris branch of the Youth Aliyah. Her travels informed her work; her philosophy focused heavily upon the nature of evil and politics.
Arendt defines factual truth as truths derived from the record of events in the ever-changing landscape of human affairs. Rational truths are those which are largely derived from solitary thought, such as those of mathematics and philosophy. Arendt explains that the political realm possesses the exclusive ability to 'guarantee reality' to mankind. She later states that the power within it is based on the opinion of the realm, that being the people who make up the polis. If this realm 'guarantees reality', then it follows that when the reality of factual truth disrupts the political realm's pursuit of change that she describes, those seeking change will distort factual truths to forge the reality least disruptive to their aims.
By disregarding the idea of a permanent reality supported by factual truths, those in power attempt to create an inaccurate image of the past most convenient to their political aims. This illustrates how the manipulation of the definition of truth to resemble something created by the mind, akin to an individual's opinion, rather than an absolute, is common in societies where every opinion is deemed of equal merit. A striking example of the aforementioned phenomenon, would, of course, be the ideological and cultural relativism that has diffused to wider society via politics and academia in the post-war era.
This vulnerability is exclusive to factual truths. The rational truths of philosophy and mathematics are generally irrelevant to political opinion. It is not these truths that are required to be evaluated as a prerequisite for proposing a change in human affairs. Arendt uses Hobbes' admission that 'dominion oversteps' its boundaries when it 'assaults rational truths'. This implies that humans are eternally accustomed, and thus impartial, to the attack on factual truths by political power. It is seemingly impossible to eliminate immediately this practice. This also implies that it is only factual truth is under threat of political distortion. Just as Holy Roman Emperor Ferdinand I's proclamation "Let justice be done, though the world perish", is now seen to signify nothing mo Rational truths are derived in solitude.
This is another reason why Arendt proposes that factual truth is particularly vulnerable to political distortion. She traces this tension back to the clash in Plato's Republic between 'life in plural', being a citizen, and 'life in singular', being a philosopher. Factual truths methods of being proven lie upon shaky grounds. For example, testimonies may be intentionally falsified or misremembered. Thus, factual truths might conceivably be destroyed, as they only verifiably exist in the lives and documents that prove their existence.
Unlike mathematical proofs, Arendt stresses that solitary thought could never have the power to restore the knowledge of millennia of documents which support factual truths. She provides the examples of mass deception under the totalitarian regimes of Stalin and Hitler. This made such a world imaginable to her seasoned twentieth-century readers. Arendt was acutely aware that the factual truths of our past are susceptible to destruction and distortion by ruthless political authorities.
Critical to Arendt's thesis is that, unlike the opposites of rational truth, namely error or illusion, the opposite of factual truth is deceit. To lie constitutes an action for the purpose of changing a situation. Thus, the enemy of factual truth is always political by its very nature, whilst illusion and error that might counter a scientific truth, for example, are not. Yet, truth can be translated into a form of action, and only then shall it possess the potential for political persuasion that it is generally powerless to access alone. Furthermore, Arendt suggests that any political power relies on the consensus of opinion (generated by persuasion), whereas truth simply exists whether there is consensus or not. Truth represents a direct and natural opponent to the opinion, which is the foundation for political change.
However, Arendt's characterisation of truths as despotic is perhaps the most comforting element of the essay. Rather than attempting to provoke connotations of unbound evil in the reader's mind, Arendt is proving how truth is always beyond the control of political powers. Truths are beyond our control Truth has a monopoly on itself, there will never be a permanent concrete substitute for it in our universe.
Yet this very fortitude is what makes them vulnerable to political authorities. She also stresses that though factual truths are uniquely politically relevant, they are impotent in their ability to be political, as they alone cannot inspire political movements. It is true that a factual truth itself may confirm something of the utmost relevance to politics such as a governmental corruption scandal. However, it is the reaction shaped by the people that may inspire political action, not the fact unsupported. This means that the fact is vulnerable to political distortion by these actors, and is powerless to prevent this when alone. It is true that rational truth also possesses this inertia, yet it rarely possesses relevance to threaten political power. Thus, factual truths always face the risk of being distorted into the murky category of opinion when they enter the political realm. Facts alone cannot function to support political aims. This could mean the public elevation of some facts over others to frame a certain narrative's aims or the placing of facts and unverifiable opinion on the same relative footing.
Arendt thus demonstrates how totalitarian regimes depend on eliminating accurate impressions of the past in favour of glorifying their own image, whilst governments reliant on electoral approval prove her thesis, as both rely on consensus, and thus, even if not consciously, are in competition with absolute truths. Arendt acknowledges the main limitation of her essay: the failure to robustly define truth. However, she counters this by claiming that as she is examining its role in the public realm that considers only the commonly-accepted definition, that it is this that is sufficient.
She goes on to highlight that the disclosure of factual truth may support the political aims of minority ethnic and social groups. This example, rather than proving that factual truths can be political without risk of distortion, in fact, proves the opposite. If truth can become political in these instances, it follows that they are indeed at risk of distortion. This is because they first risk manipulation by the group seeking to display it as evidence for their claims, but also of the political majority who may find them abrasive. They even face the potential of damage and distortion within these social and ethnic groups, from members who oppose actions that frame them in a particular way, and of course risk being distorted into opinion in each instance. The truths of history may indeed help minorities secure rights, but they may equally be misinterpreted and furnished with that which obscures their true meaning.
It follows that Arendt is arguing that factual truth must always: (1) become an opinion to achieve political change, and (2) achieve (1) by being manipulated via enhancements of rhetoric and persuasion. Arendt is not arguing that truth has no place in politics, nor that politics cannot be great. Arendt herself knew well, these two distinct trajectories of the public realm, having fled from the fascist Third Reich to the booming and significantly more politically and fiscally liberated USA. Factual truths are always at risk of distortion when entering this realm, whether for the good, such as being transformed into a valuable persuasive argument, or the bad, such as its elimination entirely. Arendt had experience of the latter with her intimate acquaintance with of totalitarian regimes.
The factual truths of our history and culture are at constant risk of political distortion. However, rational truths are rarely politically relevant. They do not experience this same risk. Although Arendt's thought here may appear abstract and irrelevant to our political lives, it is far from being so. Arendt was no politician; she never offers a step-by-step guide to leaving our own front doors and applying her framework of truth in daily reality and political life. For Arendt, the division of truths and their characteristic strengths and weaknesses is useful in and of itself. Arendt makes it evident that we must remain diligent in questioning all authority, especially political authority, and how these authorities may distort and disregard the very truths that give us our sense of reality.
---
This piece solely expresses the opinion of the author and not necessarily the organisation as a whole. Students For Liberty is committed to facilitating a broad dialogue for liberty, representing a variety of opinions. If you're a student interested in presenting your perspective on this blog, click here to submit a guest post!
Image: Pixabay