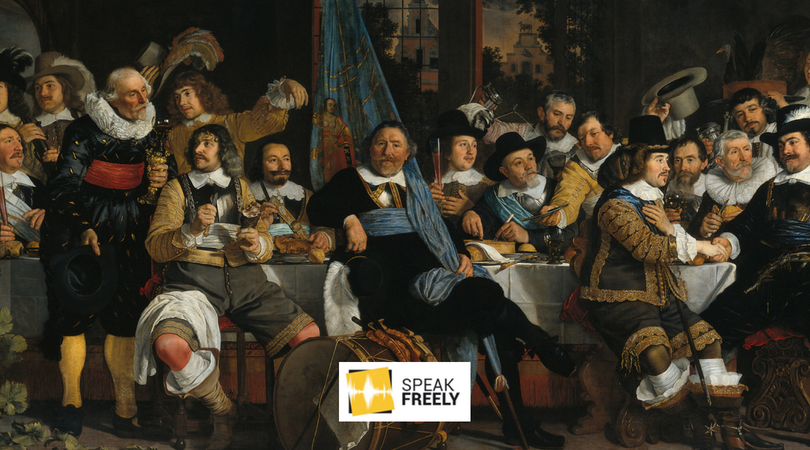 Calvinism and Capitalism
One cannot doubt that two of the biggest influences on Western civilization have been capitalism and Christianity – a religion once persecuted until the Milan Edict of 313. Yet within the Christian religion, one particular denomination called Calvinism has, for centuries, been ahead of others. Calvinists on different continents, in different countries and followers wholly unknown to each other have reached levels of progress not yet achieved by other Christian sects.
Calvinism (also known as the Reformed Theology) was started by John Calvin in 16th century Geneva, and differs from other forms of Christianity because of its views on salvation. Whereas most Christian denominations state that anyone could be saved in a religious sense, Calvinism states that only a handful of people are handpicked by God to be saved, whilst all others are condemned to hell, with there being nothing anyone can do to influence their own salvation.
The only way one may deduce if he was amongst that handful of people was with regards to his attitude to common Christian values – most specifically work. They viewed their "calling" in life as their work and viewed any occupation, provided it be done with fervor and motivation, as righteous.
Concerned with understanding their fate, Calvinists all the way from the United States to Geneva adopted a workaholic culture, even amongst secular people, in order to discover whether their place in heaven was secure.
Calvinists were adamant on thrift, hard work, and a disdain for luxury – with their attitudes towards work going as far as not giving change to beggars for it was deemed to be promoting reliance on others. Calvin also treated holidays as idol worship and condemned the celebration of Christmas – stating that Christians should treat it as any other day and work instead. Early Calvinists were also an anti-Sabbatarian, whereas other Christian groups forbid their followers to work on Sundays.
How does one's personal inclinations towards work translate into a broader macroeconomic level? The only way Calvinists could pursue their life's calling – their work, was to have the platform to actually do it – a free market.
For example, government-mandated public holidays for Christmas and other festivities would have hampered their love of work as well as welfare programs, which would have given incentives to sloth and the reliance on others, rather than pursuing one's calling to work.
In 1905 German Sociologist Max Weber published his salient work The Protestant Work Ethic and the Spirit of Capitalism, in which he traced out the link between Calvinism and capitalism. Weber stated that many religions detested capitalism and business as being pure greed, a grave sin even, but Calvinists did the opposite and embraced it.
For example, previous Christians had detested usury (the act of lending money at interest). Roman Catholicism has been opposed to it as far as back as the 4th century when it banned interest collection by the clergy.
In the 8th century, usury was proclaimed to be a criminal offense. The culmination of the Church's tirade on interested happened in 1311 when Pope Clement V made the ban absolute. John Calvin viewed it instead as inevitable part of business and rejected bans on usury altogether.
Calvinists have prospered in different societies in different parts of the world – on both a macro level as well as ordinary citizens. In the United States, the majority of pro-free market presidents have been Calvinists, such as Calvin Coolidge, Ronald Reagan and Grover Cleveland. The roaring 20s under Coolidge and the boom of the 80s under Reagan are two of the most prosperous periods in US history, whereas Cleveland's presidency was a period of classical liberalism.
In his book, Ethic America, author Thomas Sowell analyzed the patterns of immigration in the United States and noted that German immigrants, who were largely Calvinist, were much more advanced in literature and artisan skills than those from other nations.
Even from underdeveloped Ireland at the time, the Catholic Irish were so far behind the Presbyterian Scotch-Irish that the famous "Irish need not apply" term for job postings was coined. Even today, Presbyterians, alongside Episcopalians, are much wealthier and more educated than other Christian groups in America and are disproportionately represented in the upper ranks of American business.
Calvin's home, Switzerland, is one of the freest economies in the world and amongst the prosperous by GDP per capita. It has consistently been ranked amongst the top 5 countries on the Economic Freedom Index. The country had a boost in the 17th century, when French Calvinists – known as the Huguenots, were forced to flee France under Louis XIV after refusing to convert to Catholicism – much to the detriment of the French economy as they lost valuable human capital.
In Scotland, Calvinism was brought over in the 16th century by John Knox as Presbyterianism, which emphasized reading the Bible, as opposed to l Catholicism, which focused on listening to a minister  during mass.
At the time, the Scottish were still speaking Gaelic and were among the lesser developed societies in Europe for centuries, given the fact that the Roman Empire's border only went as far as Hadrian's wall in Northern England. However, in order to be able to read the majority of the books in circulation at the time,  English saw increased use and began to prosper on an unprecedented scale.
Adam Smith, the first economist was a Scotsman,and one of the most ardent supporters of free trade, David Hume, was another. Although neither were religious, one cannot doubt that the transformation Scotland went through under Presbyterianism did not have an impact on them.
Modern-day insurance was also born out of the Scottish clergy – as the ministers of the Church of Scotland were prone to premature death, their wives began contributing to a special fund, much like today's insurance premiums. Another great Scotsman that contributed to the rise of capitalism was Sir John Cowperthwaite – the father of modern-day Hong Kong and all of its riches. Even today, Edinburgh's GDP per capita is the largest in the entire UK.
In short, although elements of capitalism can certainly be observed much earlier in civilization, one cannot doubt that Calvinists as a whole had a profound impact on the prosperity of Western civilization and capitalism as a whole.
---
This piece solely expresses the opinion of the author and not necessarily the organisation as a whole. Students For Liberty is committed to facilitating a broad dialogue for liberty, representing a variety of opinions. If you're a student interested in presenting your perspective on this blog, click here to submit a guest post!
Image: Wikipedia