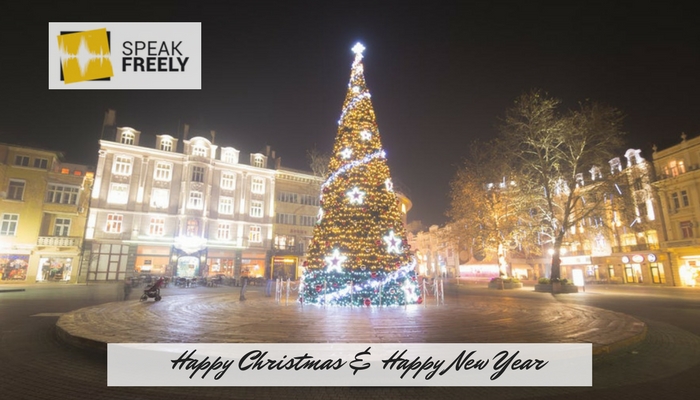 Being Grateful For Our Lot This Christmas
Around this time of year, it is a time to reflect on life, set new goals and look at how we can improve and set more challenges for ourselves. On a wider level, being involved in free market promotion and pro-freedom causes, we can get bogged down in the negatives that we see regarding new policies and regulations being instituted and promoted at every turn.
Sometimes, we lose sight of the fact that we are living at the pinnacle of human existence and no one has ever had it greater than us, especially in Europe and other Western and liberal democracies. This has given me pause to consider some of things I should take time over the holiday season to be grateful for. I invite you to also consider what there is to be grateful for in your life.
We can eat many different foods that are available in shops and grocers brought about through trade and the free market. These are rights and privileges which many around people the world are not fortunate enough to experience. My Speak Freely co-editor, Ryan Khurana, was informing me the other day that over two billion people suffer from some form of malnutrition for a myriad of reasons. I am grateful right now that I live in a region where we are food rich and I can sustain myself. I won't go hungry or experience lack of choice in dietary matters and will enjoy many fine meals over the Christmas with loved ones.
We can still, by and large, read and speak freely about our beliefs and issues of concern. Although free speech has increasingly become a point of concern in which pro-freedom advocates such as ourselves and SFL attempt to protect, it has become something of a battleground issue online on many campuses across the western world. I celebrate and champion the right for people to be allowed to say controversial things, even if they hurt people's feelings. If we believe in personal responsibility and I am certainly driven by a focus on that principle, we must allow people to hear opinions and positions which are counter to their own so that they can be afforded the opportunity to learn and grow from all the opinions and offerings that are available to them in their environment.
My days as a practicing religious observant are behind me, but this is cause for more gratitude as I live in a region where I have the freedom to leave a religion. In many countries, apostasy is a crime and punishable by imprisonment and in some cases punishable by death. I am very grateful that I will not be getting sentenced this holiday season for my disbelief or that I will not be forced to observe rituals which I find not to fulfill my own aesthetic preferences.
I am happy to have the freedom to love and hold hands with my partner. I can openly celebrate with alcohol and sing songs into the night at a reasonable volume. This freedom is forbidden in certain countries. An SFL colleague of mine who spent a considerable time in Iran informed me that things like being able to hold hands and mix with the other sex is largely forbidden by the 'morality police'. I am grateful that I will be able to open display affection to my girlfriend this Christmas and kiss under the mistletoe.
Choices regarding what we can buy, and for most Europeans, where we want to go and live, without a visa to do so, are things which many of us can take for granted sometimes. For instance, LibertyCon will be in Belgrade, Serbia this coming April. A couple of our SFL colleagues reside there and they must avail of a visa to visit other countries. I cannot even begin to imagine the frustration that brings with it and am grateful that in Ireland and as a holder of an Irish passport, I can travel across Europe at least, without a visa.
I'm grateful to my coaching clients who allow me to do great work and reward me with a prosperous career and the opportunity to sustain myself and live well. This allows me to express myself and provide value to those I come into contact with.
I'm grateful to all our donors who allowed for 2017 to be a great year in which we trained up hundreds of students across the continent within our leadership programme who spread pro-freedom ideas, wax lyrical about free markets and deliver great conferences and activism in their countries. I am grateful to the donors who will come forward in 2018 to keep the great work that is being done on the ground by all our volunteers.
I am grateful to all the staff, volunteers, advisors and speakers that keep the SFL ship sailing northward. The passion and drive that is embedded within the organisation to make a difference is revealed at every conference and every event I attend and embodied by all those volunteers that passionately work and give up their time for the cause of liberty.
I may be a hopeless ideologue, but while I am grateful for the position we are in, I hope that we can continually improve our society and spread liberty to the places which are not as fortunate as we are. Our work is never done, but at this time it is good to be grateful, to sit back and recharge our batteries and get back to the cause in 2018. From all the team at SpeakFreely.today, we wish all of our readers and supporters a wonderful Christmas and Happy New Year!
---
Picture: Pexels
This piece solely expresses the opinion of the author and not necessarily the organization as a whole. Students For Liberty is committed to facilitating a broad dialogue for liberty, representing a variety of opinions. If you're a student interested in presenting your perspective on this blog, click here to submit a guest post!