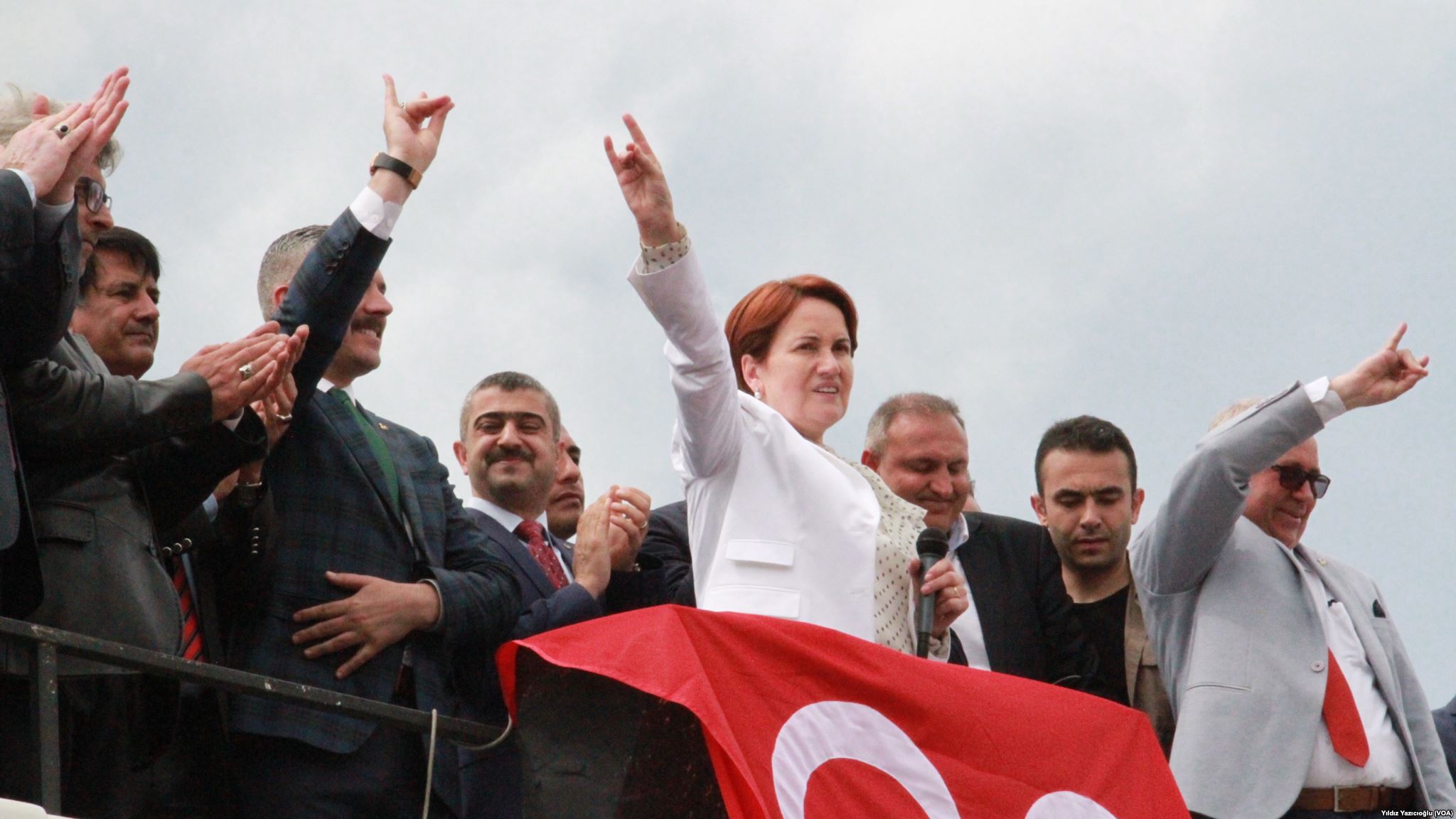 Just how Good is the "Good Party"?
Here in Turkey, the Nationalist MHP's (Nationalist Action Party) popularity has dropped from the 16.3% of votes in June 2015, to just 11.9% 5 months later in November 2015. As a result, many politicians within the MHP have expressed  their disappointment and their demand to change the party's leadership. Meral Akşener, a former interior minister from 1996 and 1997 from the center-right wing party DYP (True Path Party), was the strongest candidate for the leadership of the MHP. But because of judicial reasons, the party could not gather its congress. Thus, Meral Akşener and her followers were discarded from the party.
On 25th October 2017 a new political party named as the Good Party (İyi Parti) was founded by Meral Akşener and her supporters. Their main claim was "Turkey is going to be good!", and the new party's official founders list includes people from the nationalist MHP as well as from the former center right parties, which were powerful in 1990's but then lost their public support to the AK Party. Akşener mentioned this party is going to be the voice of the women and the youth. She has been working hard to make her voice heard in the country by visiting each city, and she has started her campaign very early. Moreover, it is refreshing to see a female leader in the masculine sphere of Turkish politics.
On the other hand,  the party's program implies uncertainty about the party's political position. It is still not clear if the party is going to be a nationalist "new and alternative MHP" or a center party that tries to gather different people from various political opinions, but who are all uncomfortable with President Erdoğan's rule. According to ANAR's (a public opinion polling company) head İbrahim Uslu, 30% of the voters are not pleased with any of the existing parties, but I don't think this is a homogeneous group. Instead, it is a mix of social democrats, conservatives, liberals and nationalists. Akşener is named as "asena" or "she wolf" based on Turkish mythology and it is hard to convince a non- MHP voter to vote for a "wolf".
Maybe it is a cliché these days to say that "far-right" ideology, populism and racism is rising in the world nearly everywhere but being a cliché does not make it wrong. Akşener refuses the comparison between her and Marine Le Pen and claims her understanding of nation is not based on race but on shared memories, ties and joys. She guarantees that every minority is protected under rule of law in Turkey.* This rhetoric is better than nothing for sure, but still there is a risk of becoming a Turkish far-right for the Good Party since it might bring reactionary votes to the party. This might also shift the country's political spectrum and promotes anti-immigrant and anti-Kurdish rhetoric.
For instance, Akşener's vice chair Ümit Özdağ tweeted that "nearly 50.000 Turks are formally hungry and 1,250,000 of them are living under the hunger threshold, 32.6 percent of Syrians living in Turkey are overweight and 27.7 percent of them are obese" without any specific proof or source. He replied the critiques with another tweet saying "4.5 percent of Turkey's population now consisted of Syrians, and this number exceeds the population of the 38 provinces in Turkey," implying a threat against the Turkish population behind the growing numbers of Syrian refugees. His rhetoric is clearly anti-immigrant and it can easily be compared with Le Pen or AFD.
In conclusion, it is natural to see new political parties in a country where there is a significant group of people who are dissatisfied with the existing ones, but the Good Party now has a question to answer; Is it going to be a center party, or a populist far-right party? In other words, is it going to be "good" or "bad"?
Picture: Wikipedia Commons 
This piece solely expresses the opinion of the author and not necessarily the organization as a whole. Students For Liberty is committed to facilitating a broad dialogue for liberty, representing a variety of opinions. If you're a student interested in presenting your perspective on this blog, click here to submit a guest post!