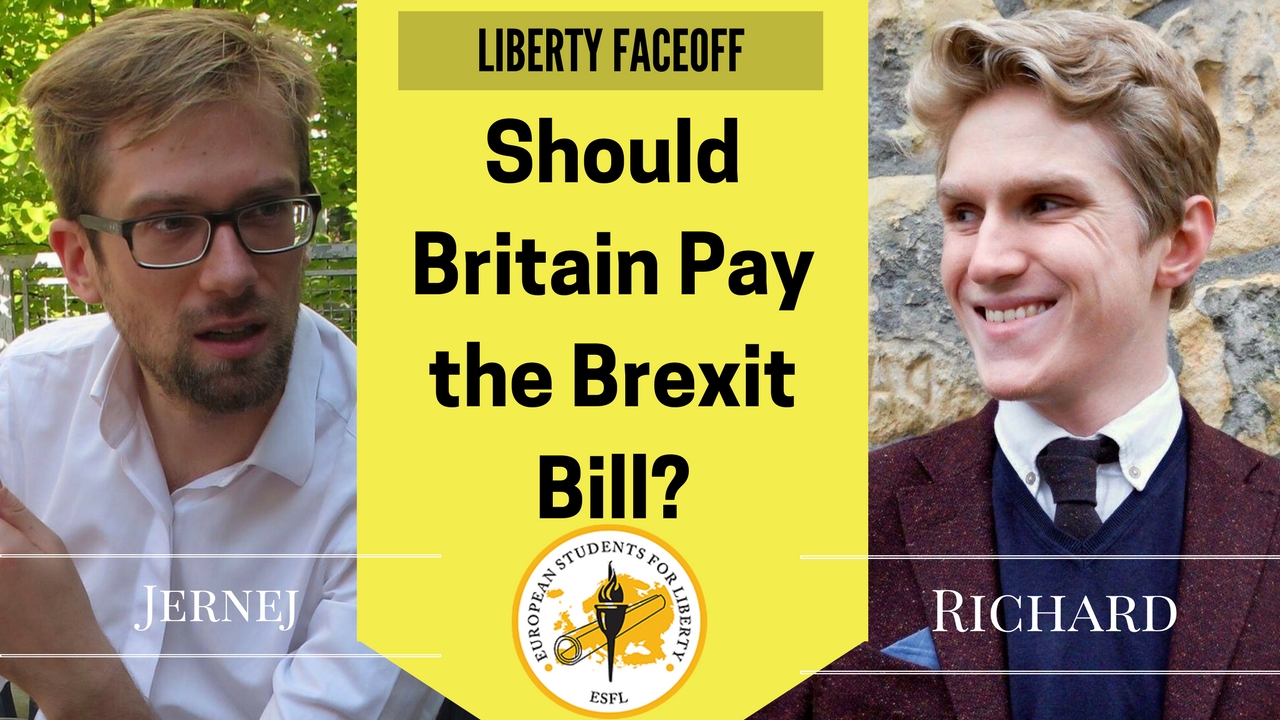 Liberty Face-Off: Should Britain Pay the Brexit Bill?
In this Liberty Face Off, Jernej Kosec and Richard Mason discuss whether the United Kingdom should pay the Brexit Bill.
It's not an exit but a Brexit bill. Huge difference
By Jernej Kosec
Let's imagine for a moment what happens if Britain "just leaves" the EU in March 2019 and no deal is reached on the divorce settlement, the transitional arrangement, and the future trading relationship. This is a scenario of hard-line Brexiteers and would materialise should the British government decide to give up on the negotiations.
British planes would be grounded, there would be no fuel for British nuclear plants, lorries with rotten vegetables would wait in front of British customs offices, and Britons would need to apply for visas if they planned vacations in France or Spain. This would happen in the aftermath of the expiry of Article 50 notice, followed by economic stagnation if not decline.  Unless of course British politics, where half of the active electorate supports the statist policies of Jeremy Corbyn, will magically make Britain the free-trade, low-tax paradise – the likes of Singapore or Hong Kong.
Instead, paying the Brexit bill will open the possibility to reach a deal on other points vital to British interests. It therefore seems like the reasonable thing to do.
But if my counterpart is arguing that nobody should force the British taxpayers to settle the bill for Britain withdrawing from the EU, I can fully get behind that. Taxation is theft, and all that.
When considering who is being coerced or not, it should be noted, though, that the Brexit bill is not only an exit bill but a divorce settlement that provides a stable ground for future binding of Britain and EU in areas of mutual interest. The Brits voted to leave the EU not to sever all ties – including political ones – with the continent (remember, 'Britain is not leaving Europe'). What is more, the British public is obviously interested in maintaining some of the links developed since the 1970s. If this needs to be unambiguously determined, does my debating opponent favour another referendum where voters would decide on what kind of arrangement they want to have with the EU?
During the referendum campaign, the most vociferous Brexiters were promising a continuous and unhindered trading position of Britain in the European Single Market. All of this would be possible once Britain is out and they were convinced a deal on future relationship would be reached quickly and painlessly. Now, when reality begs to differ and not only benefits but also costs are invoked, they are decrying the injustices supposedly levelled at Britain by the European Commission which speaks in the name of twenty-seven sovereign states. But just as the Greek people learned in 2015 that their democracy and fiscal sovereignty doesn't trump the democracy of other eurozone members which lent billions of euros to Greece, the British are learning in 2017 that their democracy is worth as much as the democracy of any other EU member state.
So it looks increasingly like the payment is not in question but the sum might be. And here again the bellicosity should be avoided by Her Majesty's Government. The surprising increase from about 60bn euro to 100bn came only after the member states pressured the Commission to include farm payments. I am not sure this demand is legally sound but it surely shows that the Commission is not the one trying to punish Britain. Also, the calculation method is still to be determined and Brexiteers should stop criticising that, too. It only means that Britain can decide itself how much it wishes to contribute and get market access or participation in various EU programmes in return. But partnerships of any kind require continuous commitments, even in the international realm.
Jernej Kosec is a libertarian with a law degree from the University of Ljubljana. He is currently working as full-time viking in Northern Norway. As a nomad, he is particularly interested in freedom across Europe.
Let's be rational – no unnecessary costs
By Richard Mason
Ah Brexit, the gift that keeps on giving. Despite it being over a year since the decision was made by voters to leave the EU, there still doesn't seem to be any indication that either side even knows where to begin! One day it's borders, the next it's trade. One ongoing issue, however, is the infamous 'Brexit Bill' – the vague sum that Britain is expected to pay for leaving the EU. How much exactly Britain is expected to pay, however, seems to depend on who you ask: Juncker places the figure at around 60 billion Euros, while the UK seems to think it should only pay a fraction of that. Regardless of the exact figure, we have to ask ourselves: Why is Britain being asked to 'pay' anything at all?
Of course, this is not to say that Britain could just leave without spending some cash; this is a huge constitutional change, and there are naturally going to be certain economic implications to Brexit. The budgetary procedure of the EU, for instance, means that spending plans are organised years in advance in the form of cycles – the current cycle having begun in 2014 and ending in 2020. Assuming the Brexit process goes according to Article 50 of the Lisbon Treaty, in which case Britain will exit the union two years after the 'trigger date' (March 29th, 2017, so a full Brexit by March 2019), the UK will still have been contributing to the budget for three years after formally announcing withdrawal, and for one year following the official exit. This is something British PM Theresa May has already agreed to, and for good reason. This kind of spending is not something that one should consider to be part of the 'Brexit Bill' since it is neither an arbitrary amount imposed on the UK, nor an external amount to what the country is already legally obligated to pay.
Instead, one should consider the arbitrary amounts demanded by the EU (namely those placed under the vague title of 'Britain's share of EU liabilities', which range from aid spending to teacher salaries at EU schools) to be the true 'Brexit Bill'. Unlike pre-existing budgetary commitments, the legality of such demands from the EU is far more debatable. Many of these demands come across as existing simply to make the UK pay more than necessary, perhaps out of spite or perhaps to discourage the other Member States from leaving. Some estimates hold that the EU is overcharging Britain by as much as 7 billion Euros.
Figures aside, it is paramount that the financial implications of Brexit be approached as pragmatically as possible. Negotiating Brexit shouldn't turn out like a messy divorce, with each side quarreling over who keeps the dog purely to spite the other. Emotional arguments from both sides – such as demands that Britain pays the bill without any guarantee of future trade deals from those such as MEP Guy Verhofstadt – are exactly the kind of positions that need to be avoided if a pragmatic, fair solution is to be reached.
To summarise: Will Britain have to part with some cash throughout the Brexit process? Absolutely. The UK has certain financial commitments to which it has already promised to commit. Should Britain, on top of these commitments, pay an arbitrary 'Brexit Bill'? Absolutely not. The cost of Brexit must be determined by legal obligations and commitments, and not by vague amounts to cover vaguer costs.
Richard Mason is an ESFL Local Coordinator with Students For Liberty and Speak Freely Blog Editor.
This piece solely expresses the opinion of the author and not necessarily the organization as a whole. Students For Liberty is committed to facilitating a broad dialogue for liberty, representing a variety of opinions. If you're a student interested in presenting your perspective on this blog, you can submit your own piece to submissions@speakfreely.today.