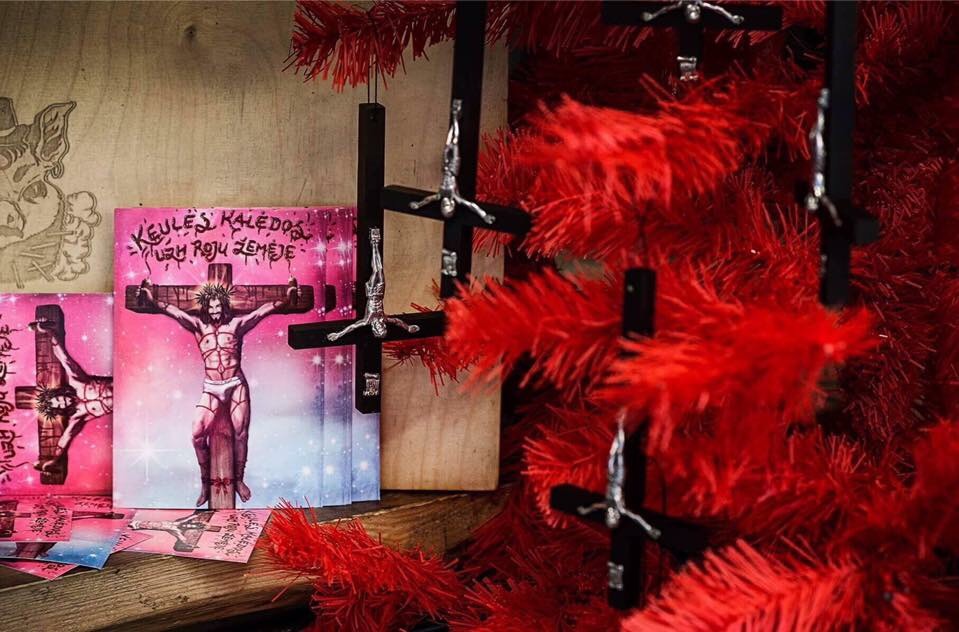 Freedom of expression is being crucified by the Lithuanian government
Lithuanians are enjoying a new wave of political streetart. However, some of us aren't happy about it, especially the Catholic Church and their buddies – the Consumer Protection agency.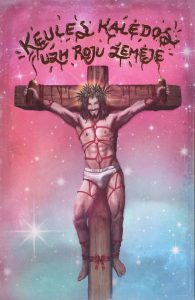 In our previous articles, we discussed the upcoming murals depticting various political and social topics in Vilnius and more recently Kaunas, Lithuania. This time it's a little different, because this time it's a post on Facebook, and is more lighthearted in its satire.  It's a picture of a smiling crucified Jesus crowned with marijuana leaves, squirting BBQ sauce which forms a Christmas message.
While most might not imagine blasphemy would exist in a European country, in Lithuania it does. The Catholic Church has this weird understanding of itself as the only authority on of morality, enabled to oppose any criticism on religion by a higher law – the law of ethics and higher purpose. Their methods of opposition are, however, a little more drastic than praying- it's lobbying in government.
The Church action of pursuing their special interest in government resulted in a fine of 1500 euros by the consumer protection agency against the barbecue restaurant for "offending public morals"
This move by a governmental agency is not just censorship of an opinion, it's also a restriction of  fundamental rights of freedom of speech and freedom of artistic expression.   
Responding to this situation, "Keulė Rūkė" officially stated in a Facebook post : "We are a small and socially responsible business with a clear mission and values. We are being attacked by the multibillion corporation that is selling illusions and false hope to the most vulnerable.This corporation has come to commit a crime against children, women, our constitutional rights, scientific progress, several wars on the basis of religion or race."    
It's worth to mention that  this isn't a the first case when governmental authorities have decided to censor artistic expression. Once before, an Iron Maiden poster has been banned by The Office of the inspectors of journalist ethics, because of it's violent approach. Since this case  Keulė Rūkė together with artist Algirdas Padleckis have made a censored version of Jesus. It is ironic that this version got under the government radar as well.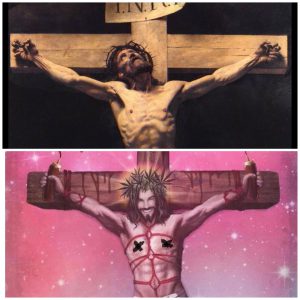 However, this depiction of Jesus was intended as a social commentary. The authors used their freedom of expression to reinterpret the iconic, violent image of the crucified man venerated by Christianity in a more light-hearted fashion. It is understandable that social commentaries might offend someone, but is it a role of a government to punish such expression that is granted under the law?
Since the right to free expression is granted by the Constitution, it is up to the individual and, especially, consumers to decide whether to like or dislike this kind of social commentary. Governmental institutions such as as the consumer protection agency shouldn't overstep their boundaries. Their role is to educate consumers about their rights, regulate businesses within a given industry and award companies with industry certification and licences (Enforce consumer protection laws).
To conclude, our young democracy shows again and again that special interest groups with powerful influences are higher than the rights stated in the constitution. Let's hope that the court will play its role correctly and judge upon the precedent.
#Jesuiskeulerule  
---
This piece solely expresses the opinion of the author and not necessarily the organization as a whole. Students For Liberty is committed to facilitating a broad dialogue for liberty, representing a variety of opinions. If you're a student interested in presenting your perspective on this blog, click here to submit a guest post!