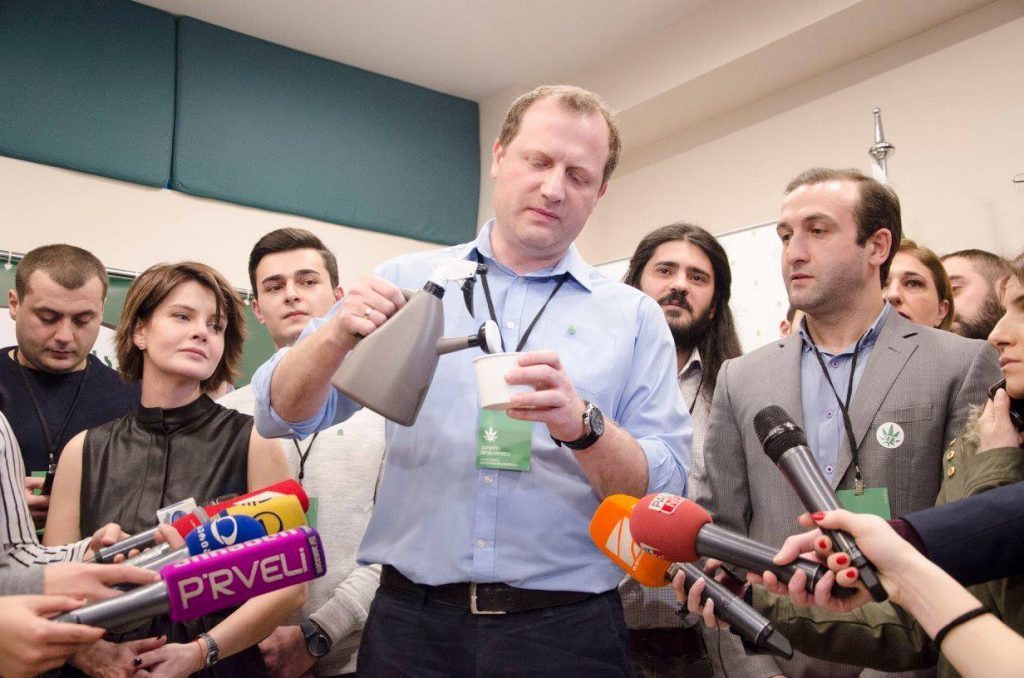 An Act of Civil Disobedience for Drug Reform in Georgia
Broadcasted on every major TV channel of Georgia, the action intends to draw attention to the initiative of the political party Girchi demanding decriminalization of all drugs and legalization of marijuana in Georgia.
At 9.30pm Girchi's office was full of mass media representatives, cameramen, journalists, civil activists and supporters of the cause from all over the country. Zura Japaridze was the first one to violate the current drug law. He took a cup filled with soil and planted cannabis seed in it, then poured water over it, showing full awareness of the consequence, which implies imprisonment from 6 to 12 years.
Over 70 volunteers joined the action and planted cannabis in a special growing room at the party's office in Tbilisi. All of them have put their names on the cups as a sign of taking individual responsibility on their action.
Mr. Japaridze and his followers consider this act of civil disobedience a part of the fight for individual liberties and freedom.
"For us – it is a struggle for freedom. We do not fight for smoking marijuana. In the end, it is up to us to fight for freedom, to fight for fundamental human rights. A man's body is his number one property and it is none of the government's business what he does with his own body" – stressed Zurab Japaridze.
https://www.youtube.com/watch?v=aKaKcGGwV6k&feature=youtu.be
The police did not show up for Girchi's public weed planting on December 31, but the Ministry of Internal Affairs declared that they launched investigations on the "illegal planting" of cannabis by an organized group. Under the current law, violation of clause 265 of the Criminal Code implies 6 to 12 years of incarceration.
Despite the fact that Georgia's Constitutional Court abolished prison sentences for consumption of marijuana and possession of less than 70 grams of weed for personal use in December 2016, it's too early to celebrate.
Up to 12-year imprisonment terms for cultivation, criminal charges and high fines for possession and consumption of marijuana still exist. In case of possession of club or hard drugs, citizens may face prison sentence.
As a result of numerous actions, campaigns and demonstrations organized by Georgian Students For Liberty, the 2nd June Movement, the White Noise Movement, GeNPUD, National Drug Policy Platform, Political Center "Girchi" and other organizations, Georgia is slowly moving towards a less repressive drug policy.
We witnessed various examples of anti-drug war activism in 2016 in Georgia: thousands of activists have gathered in the streets of Georgia, several researches were conducted on the disastrous results of the repressive drug policy, the Ombudsman's' lawsuit demanded liberalization of cannabis laws, and Girchi initiated the decriminalization bill in Parliament. But the authorities currently don't plan to make any serious changes to the law. Consequently, this last action of the year took an unprecedented radical form.
We cannot know the consequences of this particular act of civil disobedience yet; Government will either ignore it, punish the volunteers or react with the legislative amendments demanded. Thus, this radical struggle for freedom of civil activists and leaders of Girchi leaves us with the question Henry David Thoreau asked two centuries ago in 1849: "Unjust laws exist; shall we be content to obey them, or shall we endeavor to amend them, and obey them until we have succeeded, or shall we transgress them at once?"
If the government requires one to be an agent of injustice, one has no other choice than to break the law.
---
This piece solely expresses the opinion of the author and not necessarily the organization as a whole. Students For Liberty is committed to facilitating a broad dialogue for liberty, representing a variety of opinions. If you're a student interested in presenting your perspective on this blog, you can submit your own piece to submissions@speakfreely.today.