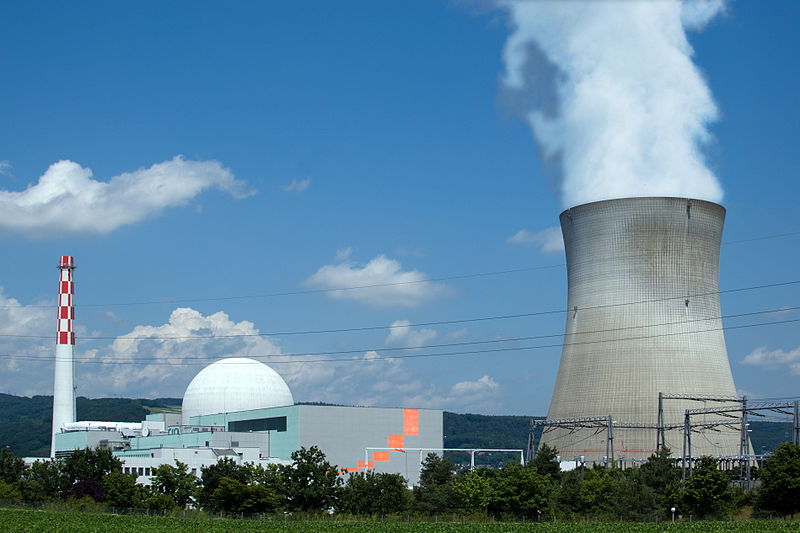 Reasonable Energy Policy Blocked by Swiss Anti-Nuclear Ideologues
This Sunday, the Swiss will vote on a proposal that would restrict the use and production of nuclear energy in the country. Boris Hombourger takes a closer look at the "Energy Strategy 2050" proposal, and at the Swiss energy market.
In May 2011, only two months after the Fukushima disaster, the Federal Council in Switzerland decided to make a major change to the Swiss energy policy, in order to implement a nuclear phase-out. They intend to limit the previously unlimited lifetime of power plants to 50 years, during which the country's nearly 40% of nuclear electricity should be replaced by renewables. This is the core proposal of the "Energy Strategy 2050", which also includes measures to promote energy conservation and increases in renewable subsidies. After years of parliamentary debates, the government's proposal was modified . This means that new builds are de facto forbidden. Existing plants are not limited in lifetime. This edited version of the "Energy Strategy 2050" was accepted in Parliament last September.
Back in May of 2011, the environmentalists regarded Fukushima as an opportunity for an initiative on an "Orderly Nuclear Phase-out", which:
forbids the use of nuclear energy to produce heat or electricity,
shuts existing reactors down after 45 years, or 1 year after the initiative has passed if the reactor already had reached 45 years,
implements legal measures to promote renewable energies and increase energy efficiency and conservation.
With the turn of events in Parliament, the initiative garnered the support of the Socialist Party and in November 2012, it was deposited with the necessary signatures. The Government postponed the vote as long as the debates on the Energy Strategy 2050 were going on; we will thus vote on the initiative this coming Sunday. Both Parliament and Government recommend to reject it, as most parties right of center do. Accepting the initiative would mean shutting down three small reactors in 2017 (Beznau I and II, and Mühleberg) and two bigger reactors later (Gösgen, 2024; Leibstadt, 2029).
Banning a particular form of energy regardless of possible implementations (the initiative would forbid not only fission but also fusion), technological progress (advanced fission reactors) or mitigation measures against its negative externalities, goes directly against the free market. While the market was liberalized back in 2009 for big electricity consumers, the average person is still being held captive by local monopolies. The date of liberalization of the market keeps being postponed; as of today, it is supposed to be opened in 2018. Why not let people choose whether they want electricity from nuclear plants, pay more to get it from renewables, or pay for the cheap German dirty coal/subsidized renewables mix?
Here is where things get complicated: the energy market in Switzerland suffers from the pressure of cheap German electricity: most hydro and nuclear plants have a hard time being profitable due to the excess capacity in Europe, driven by low fossil fuel prices and renewable subsidies. Most of the biggest assets in Switzerland are in the hand of large groups, themselves belonging to public entities (large cities, cantons). There is thus fear that some of these companies could go bankrupt in case of a full market liberalization, with a taxpayer-funded bailout becoming likely. Simultaneously, the electricity mix in Switzerland is one of the cleanest in the world, which makes the solution to bend under the pressure of fossil fuels an ecological nonsense position.
But the Greens are not particularly interested in free market and freedom of choice. Their arguments are:
Nuclear power is dangerous, the power plants in Switzerland already have been run for a long time (Beznau I is the oldest nuclear power plant in the world),
We do not know what to do with nuclear waste and that is a big problem,
Nuclear is not competitive and innovated renewables will be cheaper in the long run,
A fixed shutdown date for reactors will stop hindering new renewables,
The initiative will not jeopardize energy security but rather enhance it.
However, most of these arguments are based on omissions or exaggerations:
The Swiss plants are certainly old, but they have been regularly retrofitted with equipment able to cope with accidents or reduce their consequences, a feat that not many power plants around the world can boast about.
Geological disposal of waste is the international standard known to be feasible. Advanced reactors could reduce the lifetime of existing waste. For 60 years of operation (excluding Mühleberg plant set to close in 2019), it is expected to have 100'000 m3 of nuclear waste, 25% of which are due to medicine and research, and 10% being actual spent fuel.
Many hydro plants are not competitive either, yet nobody seems to want to phase out hydropower. Clearly, measures to account for environmental damage of electricity imports should be taken, but phasing out nuclear is not going to help.
Saying that nuclear is hindering renewables deployment is once again an illustration of environmentalists' limited understanding of economics. Are gasoline cars "hindering" the deployment of electric cars?
In the short run, Switzerland will essentially be made dependent on imports from Germany and France. Arguing that security of supply is not jeopardized by this, in a period of tense relations with the EU is questionable.
Passing this initiative would be an ecological and economic disaster, so let us hope that it will be rejected.
---
Picture: Creative Commons Wikipedia
This piece solely expresses the opinion of the author and not necessarily the organization as a whole. Students For Liberty is committed to facilitating a broad dialogue for liberty, representing a variety of opinions. If you're a student interested in presenting your perspective on this blog, you can submit your own piece to submissions@speakfreely.today.