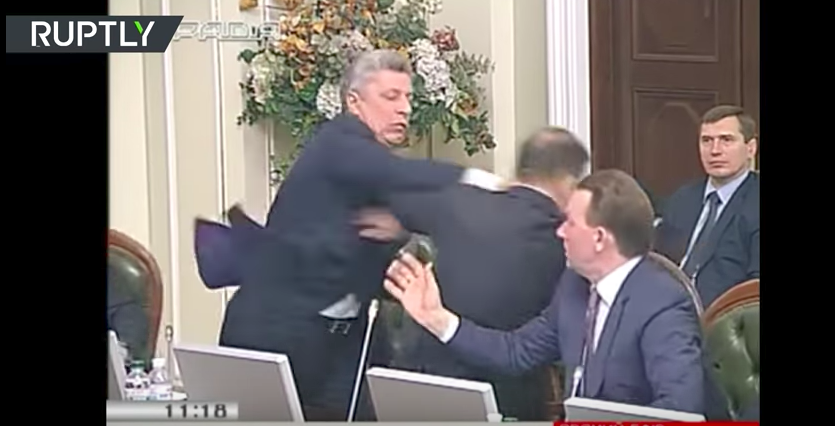 The Tradition of Fighting in the Ukrainian Parliament
On Monday, the leader of the Ukrainian Opposition Bloc – a pro-Russian party – Yurii Boiko, used physical force in response to being called a "Kremlin agent" by Oleh Liashko, leader of the Radical Party (which has no political ideology as such and is regarded as an immensely populist party). This showed once again that Ukrainian MP's can't abandon their old and well-known tradition of fighting in the parliament. It's as people say, time goes by while habits remain. In order to understand why this tradition of violence is so prominent, let's take a closer look at the history behind it all.
First and foremost, these parliamentarians want to catch the attention of the public. It seems quite obvious that if you spend your working hours in parliament, debating and drafting laws, you will remain unnoticed, yet if you punch your colleague in the face, you will become a star. The fact that domestic and foreign media will be overwhelmed with news about you and your actions, contributes to that.
The important thing here is that politicians react to the needs of their electorate. When they tear down the clothes of their opponent, they are well aware of how it will be perceived. The violence in parliament has become such a habit, that it has become a matter of public entertainment, contributing to the transformation from the legislative branch to a boxing ring.
Secondly, Ukrainian parliamentarians use fighting as a way of showing their electorate that they are willing to stand up for their beliefs by any means, even if it requires biting and beating others. But it actually proves only one thing: those who have no sufficient arguments to put forward, resort to offensive words and physical force, simply because they have nothing more to offer.
Thirdly, these MP's know they will get away with it: they will not be asked to bear any type of responsibility, nor will they lose the support of their voters. If Ukrainian legislation doesn't tolerate affrays, why does it turn a blind eye on scraps at the parliament? The answer is pretty simple: parliamentarians will not pass a law which would somehow restrict them. Laws aimed at increasing their salaries are much more appealing to them.
But what is even more striking, is that politicians who are very regularly involved in violence in the parliament, get re-elected for a second term. It seems as if their voters are either indifferent to the way in which laws are being made or they really approve of violent behaviour.
Lastly, these politicians are lawmaking-weary: the number of laws that have been passed since Ukraine gained independence is enormously big. Since 1991, MPs have been busy taking every sphere of life under the control of the state and "solving" every problem arising in Ukrainian society with a new law. Apart from that, there are many laws from the former USSR, which are still being applied. So, obviously, there is only little space for innovation.
The reasonable thing to do would be to focus on getting rid of irrelevant laws, improving the quality of the drafts and creating a coherent political strategy, since until now, Ukrainian parliamentarians have had a very odd vision of how to follow legislative procedure. But, let's be honest, it's much more interesting to trigger a massive fight in one of the highest organs of the state and create a headline for the media.
---
This piece solely expresses the opinion of the author and not necessarily the organization as a whole. Students For Liberty is committed to facilitating a broad dialogue for liberty, representing a variety of opinions. If you're a student interested in presenting your perspective on this blog, click here to submit a guest post!