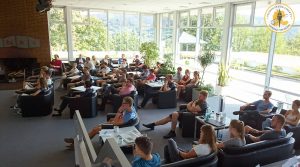 Summer School in Gummersbach: A Report on the 2016 Nexus Academy
In early September this year, Students For Liberty's first Nexus Academy took place. The Nexus Academy, which I helped to organize together with a group of friends, is a four-day-long liberal summer academy for ambitious German-speaking students with enthusiasm for philosophy, politics and economics. On September 11th, twenty young people who were accepted to the program – ranging from students who just finished high-school to those who are already pursuing their graduate studies – gathered in Gummersbach, a small town in rural Germany where they chose to spend the next four days of their summer vacations with similarly interested and enthusiastic other participants. After hiking up the Magic Mountain (a nickname given to it by students, which accurately captures my own experiences there) they arrived at Theodor-Heuss-Akademie where our summer academy took place.
The four days of the Nexus academy provided its participants with a varied mix of topics and disciplines, and combined these with diverse formats of learning. The name says it all: the program of the academy highlights the nexus between different disciplines and combines the prisms through which they explore the world. We explored the parallels between how economics and biology both make vital use of concepts such as strategic behaviour, evolution, spontaneous order and even property rights (or respectively, territorial behavior), how psychology or physics can help to inform philosophy about free will and how that impacts the meaning of human liberty, how economics – in the form of public choice theory – can explain political processes, or how psychology can help us to analyze the history and moral development of mankind. With the participants coming from a wider range of different disciplines themselves, they could make very unique contributions to the various sessions.
Beyond the nexus combinations, we also contrasted different thinkers in several fields. In our history session, dr. Gérard Bökenkamp raised some interesting questions. For instance, why do we often believe in iron laws of economics while we are skeptical of such laws when it comes to history? In our economics module, Dr. Arash Molavi Vasséi contrasted the economic and political thought of F.A. Hayek and Milton Friedman.
Going more into depth in the field of political philosophy allowed us to take a look at finer facets of various ideas and explore how – contrary to the popular stereotypes – Rawlsian foundations can provide a strong justification for free markets and property rights, as most prominently the philosopher John Tomasi tries to demonstrate in his Free Market Fairness. In a more specialized lecture, Prof. Dr. Christian Hoffmann illustrated the development of anarchist thought from a more collectivist to a market-oriented set of ideas and contrasted the earlier 19th century anarchism of Michail Bakunin with the very different ideas of more contemporary thinkers like Murray Rothbard. In one of the most popular sessions, Julian Arndts used a planning game in which the students took on the roles of politicians, voters and interest groups, to illustrate the central concepts and some interesting applications of public choice theory.
After Prof. Hoffmann – himself professor at the institute for communication and media sciences at the University of Leipzig – walked us through various insights of moral & political psychology and political communication, he directed an argumentation training which gave all participants the opportunity to apply their new knowledge for more practical matters and become better communicators themselves.
In the sessions featuring our Kairós-topics that focus in-depth on specific fields of philosophy and policy, Kalle Kappner introduced us to the idea of Libertarian Paternalism, presenting its aim to softly nudge us to behave more rationally in our own interests and discussing the variety of problems it faces from different angles of psychology, moral philosophy, political and economic theory. This focussed discussion allowed us to get to the fine-grained aspects and see whether libertarians should view it as a threat to human liberty or rather as an opportunity to substitute hard paternalism for a less intrusive alternative.
Coming home after our first Nexus Academy, I was exhausted from my own organisation of and participation in this great event and most delighted about all the positive feedback I received. I cannot be thankful enough for my friends Kalle Kappner, Julian Arndts, Sebastian Nickel and Nikolas Haring with whom I organized this event and our sponsors at the F.A.Hayek-Foundation who made it possible through their support. Several of our participants are now most eager to become active as a part of Students For Liberty themselves or contribute to our German magazine as authors. Beyond continuing the format of the summer academy in 2017, we want to form an alumni network to connect our participants with alumni from our former seminars and other liberal academies and frequently bring them together with other bright minds on ESFL conferences and other events.
Alexander Mengden is a senior Local Coordinator at European Students For Liberty. He is a student of economics and philosophy at the University of Bayreuth, Germany. 
This piece solely expresses the opinion of the author and not necessarily the organization as a whole. European Students For Liberty is committed to facilitating a broad dialogue for liberty, representing a variety of opinions. If you're a student interested in presenting your perspective on this blog, please contact mhemelrijk@old.studentsforliberty.org for more information.