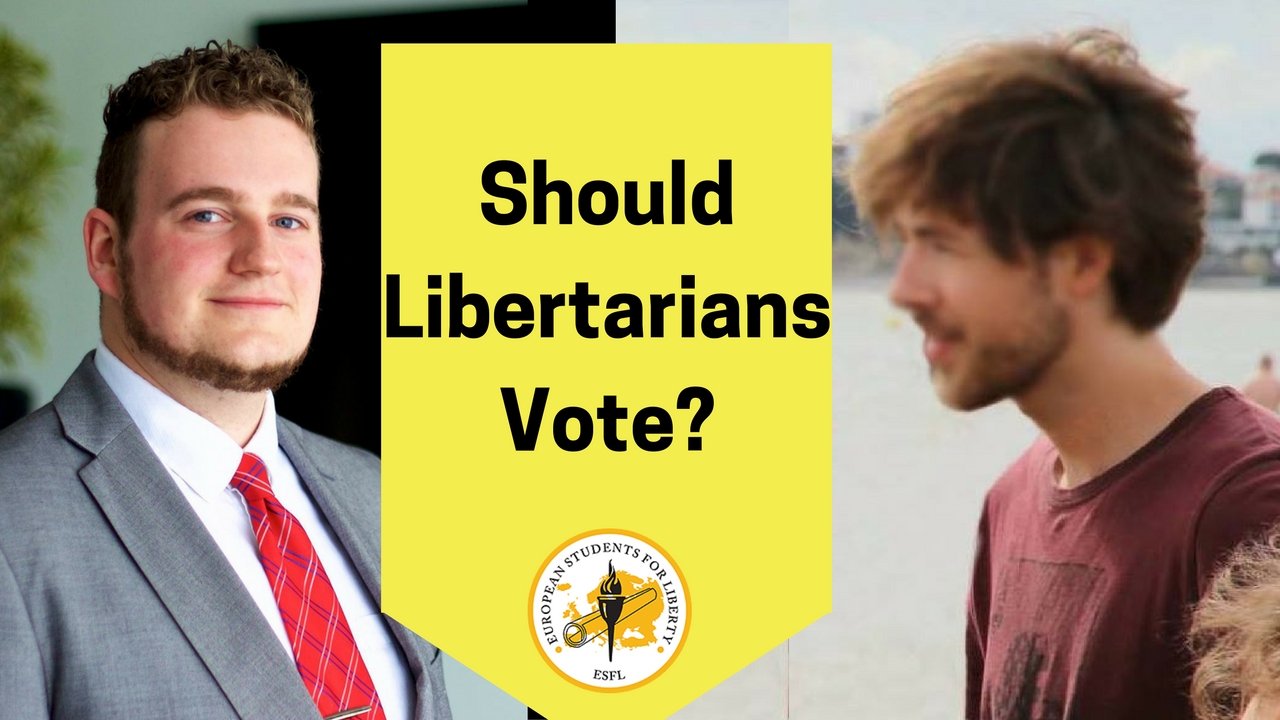 Liberty Face Off: Should Libertarians Vote?
Tomorrow, many millions of Americans will be casting their vote to choose their next president. Besides lots of debate on the qualities and flaws of the presidential candidates, this election was also a time for libertarians to discuss some more fundamental questions about democracy in general. In this Liberty Face Off, Corné van Straten and Lennart Ackermans debate the question: Should Libertarians Vote? 
Do you have an issue in mind that you would like to see debated among libertarians? Please email submissions@speakfreely.today and your suggestion might be discussed in the next Liberty Face Off. 
The case against voting
By Corné van Straten
What reason could lovers of liberty possibly have to participate in the democratic process? With the elections between Hillary Clinton and Donald Trump drawing to a close, this question is more relevant than ever. While my opponent argues that we stand to win a lot by selling our soul to the devil, I'm here to show you that we're really shooting ourselves in the foot.
Why? Well firstly, we need to realize that participating in the democratic process means lending legitimacy to a fundamentally immoral system. After all, under democracy, everything is up for debate. Law and justice are arbitrary and subject to what the majority thinks those things mean at any given moment. As Mark Twain put it:
"No man's life, liberty, or property are safe when congress is in session."
The whole system is based on the premise that your rights don't exist when you're outnumbered.
The only excusable reason, then, to participate in this system that is so fundamentally anti liberty, would be out of pragmatism: voting for the lesser evil as a form of damage control. However, the whole idea that voting can help at all is based on this romanticized idea of democracy as a battle of ideas and principles, rather than the strife of interests that it really is.
Because even if you assume that politicians have good intentions and are not power-hungry sociopaths, they can only change things when they're in power. So priority number 1 is always going to be getting elected. And there are only two strategies to effectively do this.
One way is by buying the votes of particular groups in society by promising them stuff. Free college to students, higher wages to teachers, jobs to the unemployed, tax cuts to the middle class, deregulation to businesses. This works well, because the average voter is not going to vote against his or her own interest.
Alternatively, you can try to convince people that you're going to save them from some grave and imminent danger. Things like climate change, economic collapse, trade wars, mass immigration and terrorism work very well, as history has shown over and over.
Whichever strategy the candidates choose, the winner of the elections is going to be the one that most effectively manages to either bribe or scare the masses into voting for them. This is why those of you that see this election as the ultimate opportunity to prop up the libertarian candidate are still missing the point. Participating accomplishes nothing because the democratic system is fundamentally rotten to the core. Not only is it immoral on principle, but it's also set up in such a way that the best demagogue with the lowest level of integrity will always win.
Bottom line is that we have nothing to win and a lot to lose by participating in the democratic process, because we lend legitimacy to a system that deserves none.
What should we do then? We should join the ranks of the non-voters. And as non-voters, we should send one message loud and clear and that message is this:
We did not vote for you. We did not participate in your popularity contest and we do not care who won it. The laws you sign are illegitimate, the taxes you take are still theft. If we obey, it's out of self preservation only. Because we don't want you, we don't need you and we will never recognize the authority you claim over us.
If we do this, we will send a clearer message than any vote ever could.
Like your liberties? Then vote
By Lennart Ackermans
In an ideal society, nobody violates your freedom. All cooperation is voluntary; coercion is absent. A state – which is just how we call a coercive organization with a monopoly on violence — does not exist in our ideal world. Indeed, in this ideal society the idea that you should vote whether party A or party B should be the one that transgresses your liberties is absurd.
This ideal society is usually called anarcho-capitalism. Many libertarians strive for it, but few believe that it is actually feasible. This forces us to answer a question we rather not face: given that some coercive power has to exist, what is the best way to organize it? And how do we prevent those in power to abuse it?
"Democracy" is simply the best answer I have, to both of these questions. Still, democracy has received a good deal of criticisms that should not be overlooked.
A well-known danger of democracy is the tyranny of the majority. If we do not want an evil dictator to rule us, we should probably be equally averse to being ruled by an evil mob that happens to constitute more than 50% of the population. A libertarian saying puts it thus: "democracy is two wolves and a lamb voting on what to have for lunch".
The French classical liberal Alexis de Tocqueville described this issue in Democracy in America (1835). In this book he analyzed the working of democracy in the United States. This gave him understanding of how democracy can fall into tyranny, and how this can be prevented.
The answer to the danger of tyranny of the majority, according to Tocqueville, is not less democracy, but better democracy and liberty. There are many institutions that prevent tyranny, such as laws, the constitution and the separation of powers. Perhaps paradoxically, another of these institutions is voting.
Voting is what makes politicians accountable for their actions. If those in power transgress liberties, they can be corrected by the people. A recent example of this is the Brexit vote: the centralization of power within a bureaucratic institution called the EU was threatening to reduce British self-government and liberty. Unsurprisingly, the British people voted to take back their liberty.
A subtler way in which voting protects liberty is through its underpinning of the balance of powers. A balance of powers means that separate branches of a state keep the other branches in check: they prevent each other from assuming too much power. Separate parts of a well-functioning democratic state are elected by the people in different ways on different occasions. This makes sure that these branches are accountable to different entities. If they were not, they would quickly start to conspire in order to further the wishes of the single majority they represent, even if this means oppression of minorities. In other words, voting makes sure that the different powers within a state are different and stay different.
Imagine what would happen if suddenly everyone stopped voting. Politicians would no longer be accountable. The separation of the branches of the state would quickly fade away, and new power structures would unfold over which we have no control. The consequences for our liberties are potentially disastrous.
No matter how bad the consequences, you cannot be forced to go to the polls. As a libertarian, I will defend your right not to vote. However, voting is an activity that is fundamental to the liberties we have; enough people need to do it in order to sustain our free society. You are not required to, but you should really vote.
These pieces solely express the opinions of the authors and not necessarily the organization as a whole. European Students For Liberty is committed to facilitating a broad dialogue for liberty, representing a variety of opinions. If you're a student interested in presenting your perspective on this blog, you can submit your own piece to submissions@speakfreely.today.