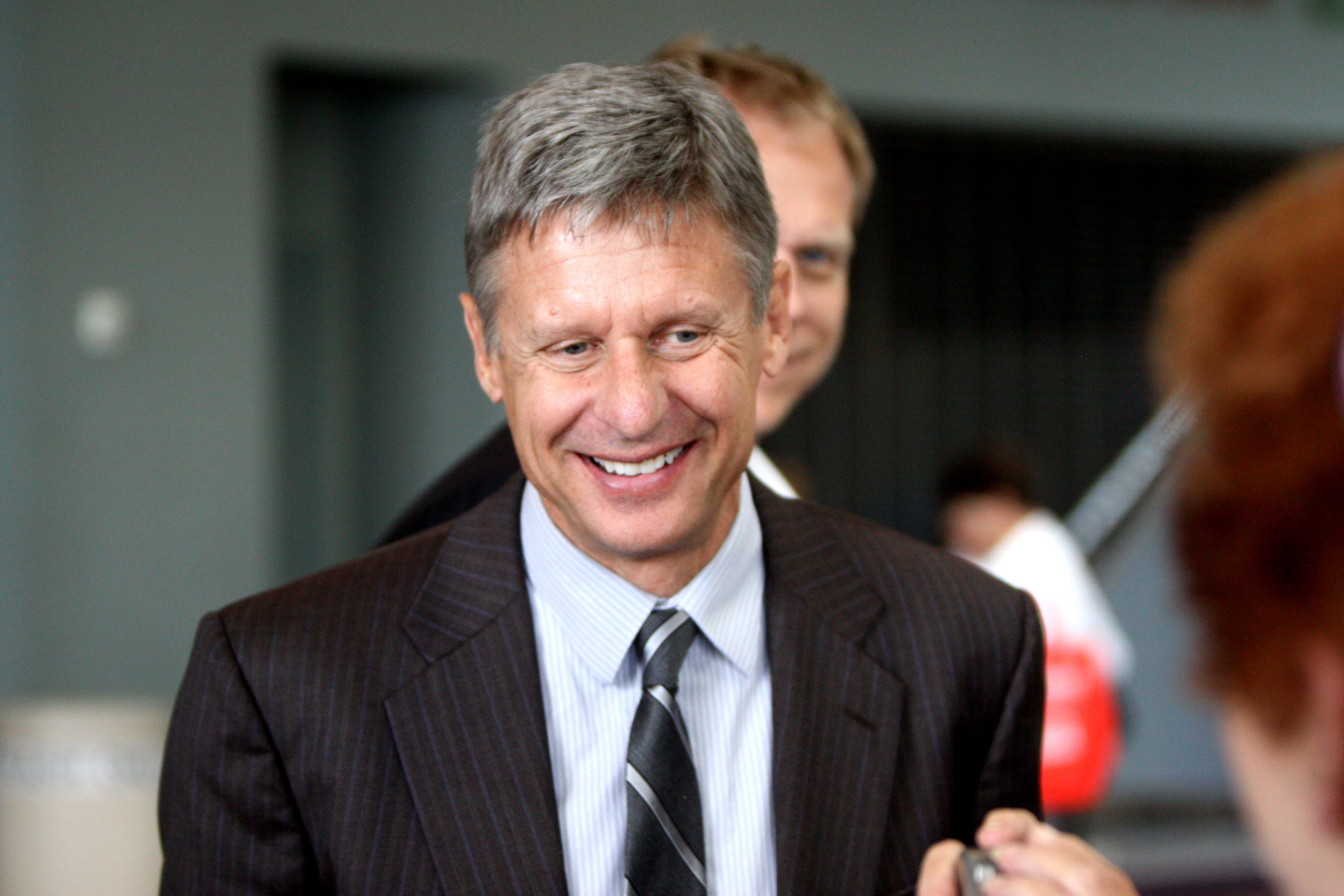 Who is Gary Johnson?
If you hadn't heard of Gary Johnson before, then you probably have now that his Aleppo gaffe is all over the media. But who exactly is Gary Johnson? Did you know he was named CEO of a marijuana company a couple of years ago? Or why the former New Mexico Governor earned the nickname Governor Veto? Luis Pablo de la Horra gives you his view on the Libertarian candidate. 
The US Presidential Election that will take place in November will go down in history for several reasons. For the first time in history, a woman will be running for President in one of the major parties. Hillary Clinton has secured the Democratic nomination, beating the socialist Bernie Sanders in a very intense and controversial primary process. In addition, an independent and non-professional politician will be on the Republican ballot for the first time since General Eisenhower ran for President in 1952. Donald Trump has become the presidential nominee thanks to a campaign based on spreading an anti-immigration, protectionist and nationalist message that has appealed to a large segment of the American population; irrefutable proof that the American society is not exempt from succumbing to populism.
Also, it will be the first time since 1992 that a third-party candidate has real possibilities to be in the Presidential debates (the Commission on Presidential Debates requires that candidates "have a level of support of at least 15 percent of the national electorate as determined by five selected national public opinion polling organizations.") The person who might be debating Hillary Clinton and Donald Trump is none other than Gary Johnson, presidential candidate for the Libertarian Party.
Political Career
Gary Johnson started his political career in 1995 as the Republican Governor of New Mexico, where he served for two terms. During his time in office, he rightfully earned the nickname "Governor Veto" after vetoing nearly 800 bills passed by the State Senate and the House of Representatives, both controlled by Democrats. As governor, Gary Johnson tried to push a free market agenda: he favored school choice through vouchers, sponsored a wide range of tax cuts, introduced legislation to deregulate the electricity market and reformed Medicaid. In addition, he was one of the first relevant figures in US politics to advocate the legalization of marijuana.
However, all that glitters is not gold. Johnson's two mandates also have some worrying aspects. While "Governor Veto" was in office, New Mexico's debt increased from $1.8 to $4.6 billion, an astonishing 189%. Similarly, public spending increased by 4.67% a year, which adjusted for inflation would account for a significant 2.20% annual increase. Nevertheless, it is fair to say that, as governor, Gary Johnson had his hands tied by the Democratic majority in both cameras. As acknowledge by the former speaker of the House of Representatives in New Mexico, the Democrat Ben Luján, after overriding a governor's veto: "there is no executive fiat in this state. The governor must have the consent of the legislature for fiscal action."
In April 2011, Johnson participated in the Republican primaries to be the GOP nominee to the 2012 Presidential elections, withdrawing his candidacy shortly after to pursue the nomination of the Libertarian Party, which he successfully achieved in May 2012. He temporarily left his political career in 2014 to become the CEO of Cannabis Sativa Inc, a marijuana company.
Honest Politician, Middling Candidate
Despite his positive track record as a Republican Governor and his smart communication strategy, Gary Johnson has a major flaw: his eloquence leaves much to be desired. Let us first analyze Johnson's communication strategy. Contrary to what Ron Paul has claimed in several occasions, Gary Johnson's pragmatic way of conveying the message of liberty is the most suitable one to attract those Democratic and Republican voters unhappy with their respective candidates (a large segment according to the polls) as well as independent voters. For instance, Johnson usually presents himself as "fiscally conservative and socially liberal". For some purist libertarians like Ron Paul, this can be seen as a concession to the status quo, that is, a way of presenting libertarianism as a middle ground between conservatism and liberalism. Personally, I find this strategy effective if the Libertarian Party aims to reach out to a majority of Americans.
However, this pragmatic strategy has been eclipsed by Johnson's lack of fluency and eloquence he has shown every time he has had the opportunity to be interviewed on TV. Johnson sounds repetitive (he uses the same exact phrases and examples all the time) and is not capable of catching the attention of the audience. In addition, his recent gaffe on TV when asked about Aleppo has only reinforced his inability when dealing with the media (also raising some doubts about his knowledge on current foreign policy affairs). On the contrary, his running mate William Weld, former Governor of Massachusetts, expresses himself in a clear and coherent manner and answers questions more convincingly. Yet voters usually pay little attention to whom is running for Vice-president: the main course is what matters.
If Johnson manages to achieve the desired 15% in the polls, he will have to improve enormously his communication and debating skills. Notwithstanding Johnson's limitations as a candidate, his proven track record as a Republican governor and his brilliant strategy to transmit the libertarian philosophy makes him the only reasonable alternative to the status quo represented by a hawk marked by several corruption scandals and a dangerous populist that has promised to deport 11 million immigrants if he reaches the White House.
---
Picture: Creative Commons Gage Skidmore
This piece solely expresses the opinion of the author and not necessarily the organization as a whole. Students For Liberty is committed to facilitating a broad dialogue for liberty, representing a variety of opinions. If you're a student interested in presenting your perspective on this blog, you can submit your own piece to submissions@speakfreely.today.